Did you know the average American uses around 500 single use plastic baggies a year? Only a small portion of those baggies will ever be recycled, the majority instead ending up in landfills and waterways where they will contaminate soil, water and litter wildlife habitat.
The World Economic Forum, an independent non-profit dedicated to engaging industry leaders to create positive change, projects more plastic than fish in our oceans by 2050 if we don't change course. So I ask you, are you willing to make one small change to reduce your plastic consumption?
Adopting reusable, recyclable and compostable alternatives to sandwich and snack bags is an eco-friendly habit that will benefit you and the environment. Plastic waste is literally choking the planet, littering wildlife habitat and ending up in the food chain. Did you know that humans ingest a credit card's weight in plastic each week? Plastic that ends up in landfills and oceans never goes away entirely, breaking down into small particles that have infiltrated our food and water. Eliminating plastic bags from your daily routine helps make a dent in the demand for plastic. We have the power to demand change by voting with our wallets.
Trashing the planet is necessary for the sake of convenience. Sustainable alternatives to plastic bags are plentiful, and as an added bonus, they will save you money. Here are some of our favorites.
Lunchskins
Founded by a mom who wanted to offer an alternative to plastic snack bags, Lunchskins specializes in reusable, recyclable and compostable bags. They come in a variety of sizes accommodating every scenario in your life. Bright colored prints make them fun and exciting for kids. The reusable sandwich and snack bags are dishwasher safe and they even carry a line of bags fitted with Velcro closures, ideal for little ones.
Lunchskin vs. Ziploc®: One reusable bag set includes a sandwich and snack bag for $9.95 and replaces 1,500 plastic bags. A 90-count box of Ziploc® bags is $3.59, switching would save you $50 over the life of the Lunchskin!
Stasher Bag
Stasher Bag is a Certified B Corp making reusable silicone bags that come in a variety of sizes and colors. We love them because one side of the bag is clear, making it easy to see what's inside and hopefully eliminating the out of sight, out of mind issue with leftovers in the fridge. Stasher bags are endlessly reusable. They can be boiled, microwaved, and are sous vide and dishwasher safe. They seal well and are great for lunches, TSA and leftovers. If a Stasher Bag becomes unusable, the company offers a program where you can send it back, for free.
Stasher vs. Ziploc®: One each of a Stasher sandwich ($11.99) and snack bag ($9.99) adds up to about $22 and will eliminate your need for Ziploc® bags entirely.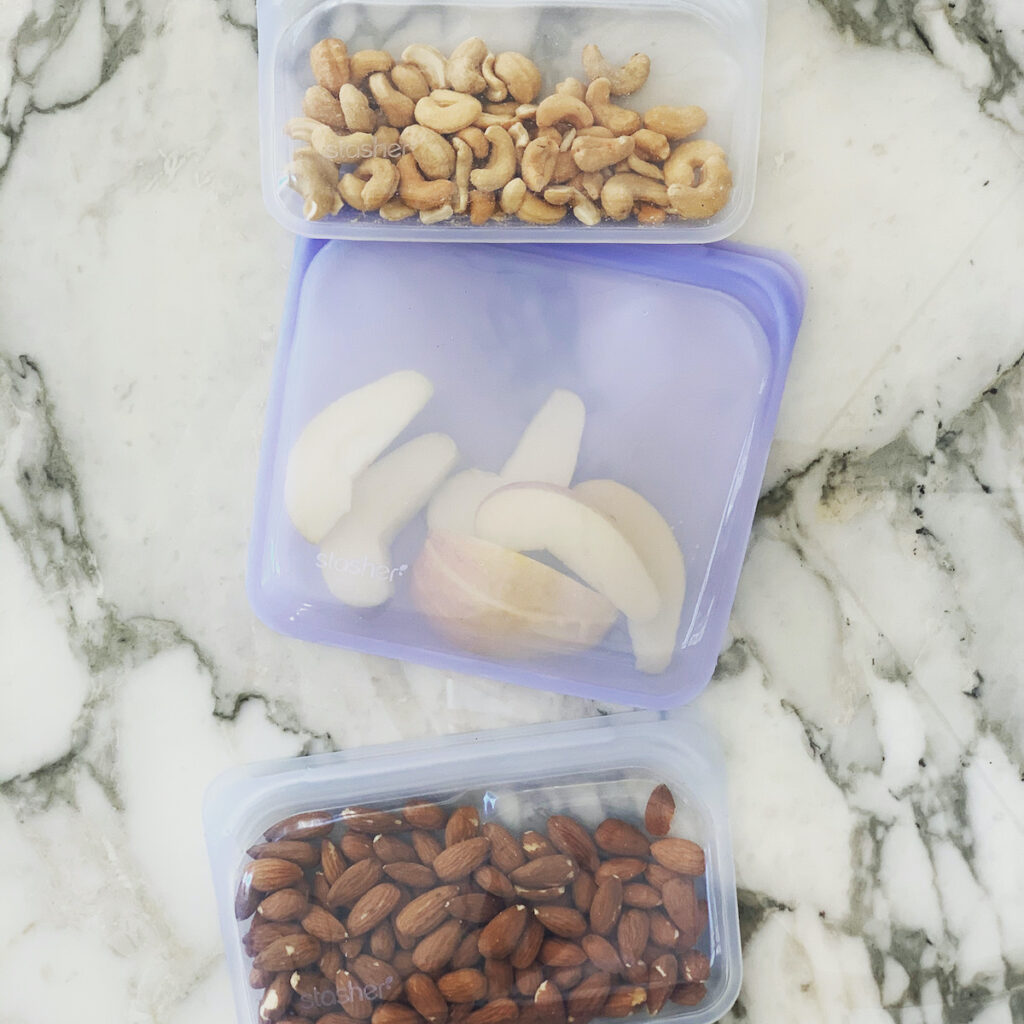 Marley's Monsters
Marley's Monsters is an Oregon based company focused on all things reusable in your home. Their fold and close, washable linen sandwich and snack bags are made in Oregon from linen and cotton. You can choose from cotton or waterproof lining options to best suit your lunch and snacking needs. They come in a rainbow of colors and patterns, so kids can get excited about choosing their favorites for their lunchbox.
Marley's Monsters vs. Ziploc®: One each of a sandwich ($12) and snack bag ($12) adds up to $24 and will last years with proper care and mending when necessary. If the average family uses 500 Ziploc® bags a year, each year that you use a Marley's Monster bag, you'll save about $20 per year.
To-Go Ware
To-Go Ware is dedicated to providing environmentally friendly products for people, on the go! Their Snack Time bag can be folded over to accommodate a variety of sizes from sandwiches to smaller snack items. This versatile bag is water resistant and machine washable. According to the To-Go Ware website, it replaces up to 1,825 plastic bags over its product lifetime.
To-Go Ware vs. Ziploc®: To-Go Ware bags come in a set of 3 for $14.99. Lasting for an estimated 3-4 years, saves you and the planet from a lot of plastic waste and about $80 over the course of your reusable bag's life.
* All price comparisons are based on average use of 500 Ziploc® bags a year at $3.59 for one box of 90 sandwich bags.