Los Angeles is known for beaches, sun, celebrities, Rodeo Drive and the glamour of Hollywood, but if you scratch the surface, this urban sprawl has so much more to offer. I collaborated with my favorite LA hairstylist to bring you her low key favorites. From restaurants to parks and everything in between, this where you should be going should you find yourself in the city of angels.
Adriana Rodriguez is an Orange County native, tracing her family roots to Mazatlán, MX. She's truly a creative spirit, channeling her vision as a talented hair and photoshoot stylist. An entrepreneur, her outpost, Washed Out Salon, is located in East LA's hip Highland Park neighborhood. These are her favorite LA haunts.
Food
Sonoratown was my lunchtime staple and most recommended taco spot in downtown when I lived and worked in downtown LA. It's the kind of place that makes me remember nostalgic childhood memories. Eating delicious tacos on the roadside on a family trip to my grandparent's house in Sinaloa. Everything from the music they play to the way they source their products is so well thought out and has so much love behind it. EVERYTHING is good but my favorite is the Caramelo with Carne Asada. I highly recommend adding the smoky grilled poblano chile for a buck.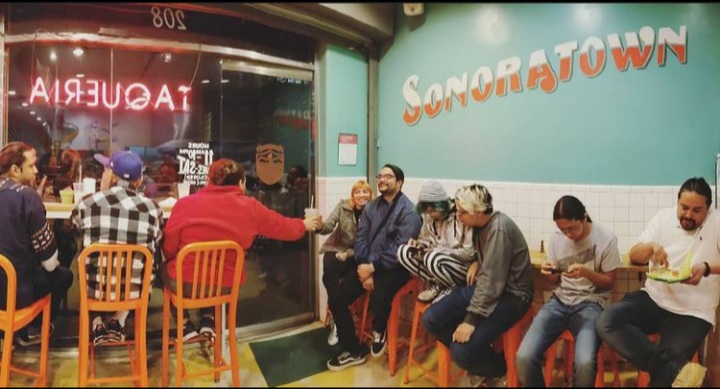 The mamaliga at Lemon Poppy Kitchen is my favorite, the biscuits are delicious too. They make their own in-house jam which is so yummy. It's the kind of healthy (sometimes not) comfort food everyone craves nowadays. I mean cheesy polenta dumplings fried, smashed and topped with sour cream, bacon, feta, green onion and a fried egg?!? It's so good! Don't sleep on the lunch and dinner options either. Recently, Lemon Poppy Kitchen teamed up with Parsnip. Previously located in Highland Park, Parsnip is Romanian home cooked soul soothing style food. This gem is hidden away in Glassell Park, a quiet neighborhood with plenty of parking.
Tierra Mia Coffee Shop is just a five minute walk away from my studio and was everything I needed during the Quarantine. Their Horchata Iced latte with oat milk is the best coffee drink I've ever had. The company roasts its own beans in a Pico Rivera facility, prepares espresso with Strada machines, and features a daily list of brewed-to-order coffees. Kitchen Mouse is part deli and part gift shop so I can score a frozen veggie lasagna, some cupcakes and a children's book in a snap. Jane on York, located in a house turned restaurant on York Ave., has all the goods. Eggs bene, Spam kimchi fried rice, delicious salads and really good french toast. When I have early, long color appointments we usually order takeout from here.
My family is from Mazatlán, Sinaloa, which is mostly known for its fresh seafood. So, I grew up eating ceviche every Sunday afternoon, not carne asada. Rosty Peruvian serves rotisserie chicken that is fire! But of course my favorite is the ceviche with tigre de leche… La Copa Nostra.
A guisado is a stew and the folks at Guisados were genius to start putting them inside of hand made tortillas and selling these stews as tacos. The chicken mole is by far my favorite. The Pasadena location is also a bakery that sells conchas, the Echo Park location offers Blue Horchata when Dodger season is in full effect. Guelaguetza is the place to go if you've never had the opportunity to travel to Oaxaca and eat real Oaxacan mole. Family owned and operated, this is my birthday celebration restaurant. They have 6 different varieties of mole. The coloradito is the one they serve to you as you sit down as if it was salsa with chips. That's when they get you hooked.
Burgerlords I'm not vegan but you don't need to be to know what good food is, right? These burgers and tahini shakes are sooooooo yummy. Nearly all their food is made from scratch so it tastes like real food and not frozen fakeness. This is such a neighborhood gem and what I love more than anything is they use their food to raise money and awareness. Right now they're raising funds for Stop AAPI hate, a coalition of community-based organizations that advocates for the rights and needs of the Asian and Pacific Islander American Community in the greater Los Angeles area.
Last but not least, I remember when my client Briana sat in my chair and told me about her dream to open a Texan restaurant so this one is sentimental. She and her sister Andy opened Homestate. These ladies have always strived for high quality, sticks to your bones kinda food with a cool soundtrack to complement in the background. They use tacos to create awareness in the community and support local bands. They recently raised $60,000 for Watts Empowerment Center and No Us Without You! The texan style breakfast tacos, migas, queso, brisket, margs and spicy palomas are just a few or my favorite things.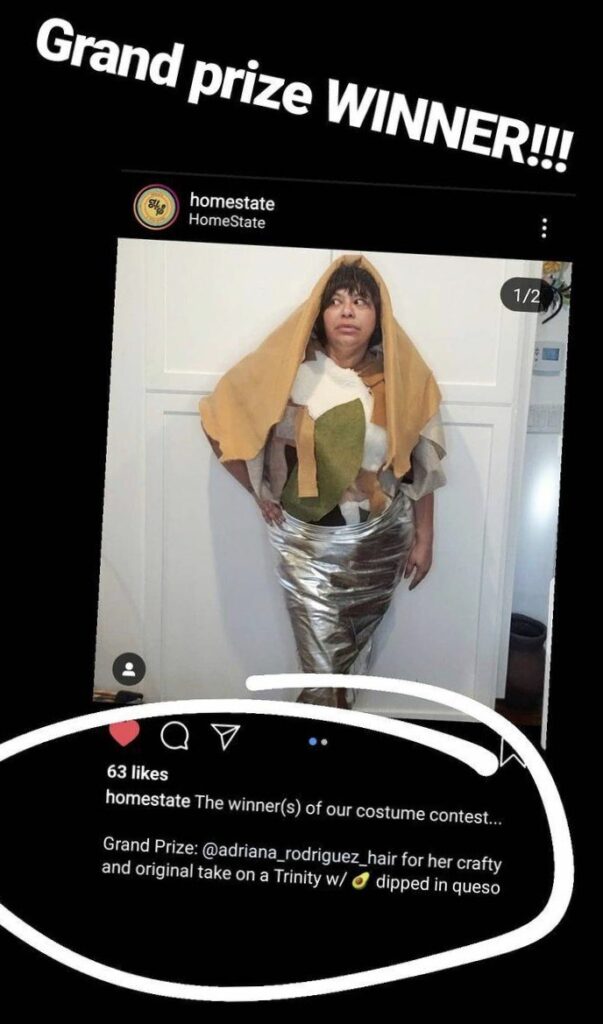 Museums
One of the ways I describe Los Angeles is liking it to a treasure hunt. With the right map, the city unfolds itself to you and you can't help but fall in love with it. The Vincent Price Art Museum has been located on the East Los Angeles College Campus for over fifty years. I discovered it through an exhibit called Guadalupe Rosales : Echos of a Collective Memory. Rosales manages two of my favorite Instagram accounts @map_pointz and @veteranas_and_rucas. Both are a collection of the culture I was growing up in, in the 90's, in Orange County and in LA. Since that show I've become a huge fan of their exhibits. The gardens at The Huntington Library are the selling point for me. I love spending time wandering them; especially during quarantine when strolling through any open aired space felt like such a luxury. My favorite garden to visit is the Desert Garden featuring the gigantic Cereus Xanthocarpus. This tree-like cactus is the largest on the grounds; it was a mature specimen when planted in 1905 and currently weighs twenty tons! The desert garden conservatory is currently closed for renovations but you have to visit as soon as they reopen. Other museums to add to your list, The Cheech , The Riverside Art Museum, The Museum of Latin American Art and the Gamble House and the Museum of Neon Art.
Parks
When you need a bit of fresh air grab a picnic lunch and head to one of LA's many parks. While Griffith Park is well known for landmarks, The Griffith Observatory and Hollywood sign, veer off the beaten path and explore Elysian Park, just outside Dodger Stadium or visit Los Angeles State Historic Park to have lunch with a gorgeous view of Downtown. If you like to hike, head further east to Eaton Canyon Natural Area for hiking trails. Ernest E. Debs Regional Park in Northeast LA has 282 acres of hiking and wildlife and is perfect for nature loving dog owners like myself who also enjoy a beautiful sunset view of Downtown. My favorite parts of the park are the Audubon Center and Los Nogales Nursery. All the native plants in the nursery are grown from seed collected in Debs Park, and are used to restore native habitat throughout the park. One time I was hiking with friends from out of town. One of them, who will remain nameless, thought it would be cool to rip out a white sage plant to take back with her to the east coast. Ummm, not cool. She was caught by a ranger who explained to her how there are fires here in CA and how important it is to replant native plants afterwards. I gotta say I was embarrassed but it led me to want to volunteer here so maybe it worked out in the end.When I lived in Downtown and had my beautiful pitbull named Diamond Vista Hermosa Natural Park was our spot. It's the little bit of nature that all downtown dogs deserve. There are walking trails, streams, meadows, oak savannas, picnic grounds, and a nature-themed playground. There's a very romantic bench that overlooks the city which is now one of those places that pops up in movies and tv shows about Los Angeles. One night on a walk we spotted the Community Nature Connection naturalists setting up telescopes in the outdoor amphitheater. They teach environmental and natural history and provide Interpretive programs for community and youth. There's even a free "Transit to Trails" bus program to the Santa Monica Mountains.
Shopping
Big Bud Press is a Los Angeles based clothing label that specializes in unisex, everyday goods. Everything they put out is super cute and has a retro vibe to it, which I love. The sizing is very inclusive and everything fits well.If you grew up on 80's & 90's Hip Hop and R&B then you know about Hoops and Door knocker earrings, sweatsuits and lowrider bikes. When I discovered Melody Ehsani on Fairfax over ten years ago I immediately fell in love, felt seen, felt like these were my girls. The store has hosted a number of in-store conversations with amazing women. I had the honor of being there for the launch of the ME., a collaboration with Lauryn Hill. I waited in a long line after finishing a Vidal Sassoon course and didn't expect much. They talked about being a woman and the struggles that go along with being an independent minded woman. Hill and Ehsani talked about how they met, how they were inspired to work together and then Lauryn Hill SANG. The whole room sang along. It was a magical experience. A portion from each ME. item purchased goes towards the advancement and education of women in our society.
For those who love to thrift, check out Son of a Vet. Highland Park's Dotter and Prelude and Dawn are great neighborhood shops to browse for small gifts and locally made things. Art Form Studio is a collaboration between husband and wife team, Adrian and Sherry Younge. They created this amazing space that is a hair salon and record store. They bring in old jazz musicians to play and promote the art form to the younger generation.
An avid plant mom, Adriana's picks wouldn't be complete without a plant shop, or two. Her go-to's are Fig Earth Supply and Planta.
Written in collaboration with Adriana Rodriguez.