Periods. It's a topic almost exclusively reserved for 'the talk' between mothers and young girls when they start menstruating. Today, we're bringing period talk into the light of day to tell you about Dot Cup.
The average woman will have approximately 456 periods in her lifetime. During that time women will use large number of tampons and/or pads. These items not only contain chemicals and plastics that can be harmful to your health, they also create a lot of waste. Additionally, the cost of these products can be prohibitive for some.
Enter Dot Cup.
It was during her time working and travelling with the non-profit World Vision, that Dot Cup Founder, Betsy Drach, witnessed first hand how having their period temporarily stopped everyday activities for young women and girls. Motivated to help, Betsy recognized an opportunity and founded Dot Cup.
Dot Cup is a menstrual cup born in Chicago, IL. Dot Cup follows the one for one business model, donating one cup to someone in need for every cup purchased. A sustainable alternative to conventional period products, Dot Cup can be washed and reused for up to three years before needing to be replaced.
We love introducing you to entrepreneurs, and small business owners who are creating your products, and in this case, making the world a better place. We caught up with Betsy and dug a little deeper into her experience and motivation for starting her own company as well as her ambitions for the future.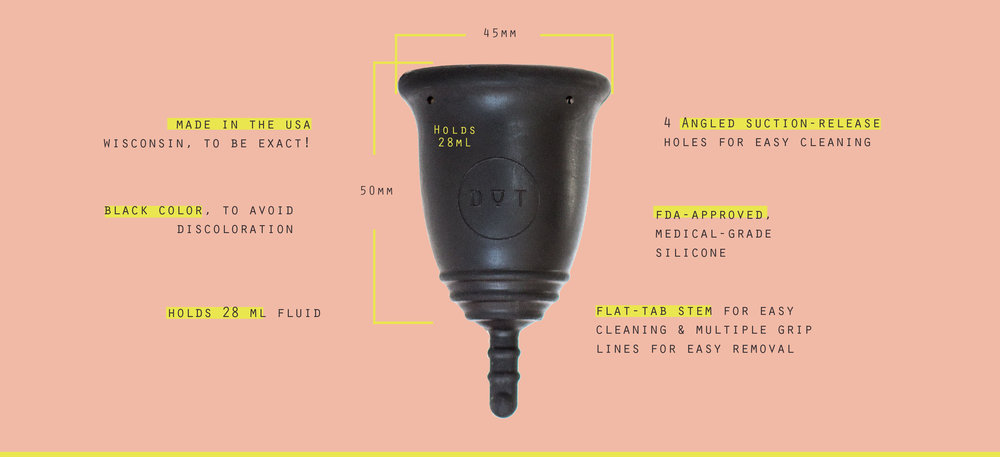 You started out in advertising, did you ever see yourself starting your own company?
I think I've always had an entrepreneurial spirit with lots of crazy ideas for businesses throughout my life, but I certainly didn't think I'd find myself in the field of menstrual health!
During your travels to Cambodia and Kenya, was there a specific experience or moment that moved you to want to make a difference?
I don't know that it was just one moment that it all hit me, but it was more an overlap of my personal experience using a menstrual cup perfectly aligning with my growing knowledge and understanding of period poverty and female empowerment in the developing world. A gradual confidence grew within me that menstrual cups would be the future of menstrual care for women with the means to purchase them, as well as an incredibly empowering tool for those without the means to purchase.
Can you explain the manufacturing process? How is it sustainable?
Dot Cups are made through liquid injection molding – meaning liquid, medical-grade silicone is poured into a mold, heated and cooled, and voila, you have yourself a Dot Cup! Since silicone is one of the most durable yet hypoallergenic and anti-microbial materials, it can be safely used for many, many years, alleviating the need for endless disposable menstrual products sent to landfills!
Where is the Dot Cup manufactured?
Our company is headquartered in Chicago and all of our orders are shipped from here. As for manufacturing, we recently transferred manufacturing of the Dot Cup from Wisconsin to Los Angeles area. Our new manufacturer has a bit more capacity for growth, has more medical-device experience, and also offers bio-degradable packaging options so it was really a win-win.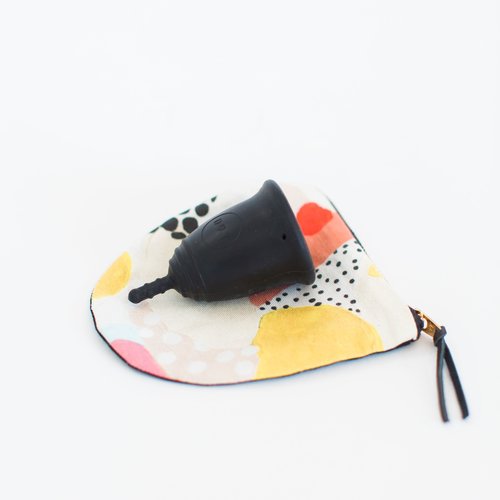 As a small business owner in Chicago, how are you giving back and being a positive force in your community?
We recently did an event at a local high school that was all about periods. It was a really incredible and safe discussion around ALL aspects of periods from cramps and birth control to menstrual supplies and taboos. We also offered Dot Cups at a fraction of their retail price to make sure they would be affordable to everyone in attendance. We hope ot do more work like this, empowering the next generation to think better for themselves and our planet!
Using a menstrual cup is more sustainable than pads and tampons. How often does a cup need to be replaced? What is the proper way to dispose of an old cup?
The average menstruator uses about 20 tampons per period, and thus roughly 240 each year. Sadly these hundreds of thousands of tampons sit and rot in landfills (and oceans) for years to come! Menstrual cups can be safely used for up to 10 years, and the best way to dispose of an old cup is actually to burn it outside!
Does each Dot Cup come with a handmade storage pouch? Will the pouches continue to be handmade as Dot Cup grows?
Yes! Each Dot Cup comes with a storage pouch that is handmade by a group of former refugees in Chicago. It's a really beautiful, free program through Refugee One where students enroll in an 8 week sewing class and upon graduation, receive a free sewing machine to take home with them. The Dot Cup pouches are one of their first paid projects and they're able to sew them at home, offering a very flexible source of income! We are already in touch withe a few similar empowering sewing programs across the country to tap into as we grow. It is important to us to empower people in every aspect of our business!
Dot Cup donates menstrual cups to women and girls in need through World Vision programs. Where are the cups being donated?
Right now we have shipments of Dot Cups headed for Kenya, Cameroon, Rwanda, and Mexico, and are expanding our distribution program with other organizations as well. We are also certainly open to domestic donations and are working on a few collaborations at the moment!
What does it feel like being on the edge of a potential cultural change following a long engrained behavior?
It is SO dang exciting! It's incredible to see the way the conversation surrounding periods has been building over the last few years. Taboos are being smashed and menstruation is starting to be celebrated. It's amazing and inspiring to get to be a part of the movement. For most of us, tampons were the product we were handed when we started our periods at a young age, and thus have become the norm, but I don't think that's going to be the case for the next generation. It's strange to think about tampons going exempt, but our great grandmothers didn't use them and it's my prediction that our granddaughters won't either!
What advice do you have for first timers? What's the most commonly asked question?
Don't give up! You have to sort-of revert back to your pre-teen, awkward mindset figuring out tampons for the first time. Sometimes they went in cockeyed and uncomfortable, sometimes you had to take them out and try again or prop one leg up on the bathtub, but before you know it, inserting them becomes second nature. Cups are the same way! There's a learning curve, for sure, but stick with it, try multiple cup folds and positions and after about 3 periods you'll never look back.