Imagine a quiet residential neighborhood in Northeast Ohio lined with unassuming homes surrounded by green grass and full trees. The flowers are blooming and the bees are buzzing. Heider's Honey is a small husband and wife owned sub(urban) apiary or bee farm located on a .5-acre lot in such a neighborhood. Heider's Honey started when Joe Heider saw a sign.
Inspired by a beekeeping sign, one day Joe Heider turned to his wife Bobbi and asked if he could get a pet. Shortly after they had their first bee hive. Let's back up… Bobbi and Joe live in Northeast Ohio. They raised a daughter who now teaches and coaches soccer in Indiana. They are regular people with normal jobs. Life before bees was a full one as any parent can attest to.
In August of 2008 they became bee parents. They found a mentor to help them learn the ropes of bee keeping and learned how to keep their new hive alive through the winter. One month later hurricane Ike hit and Joe received a call from a coworker about a downed tree, it had a hive in it (bees take up residence in trees). The hive would not have survived without intervention, so Joe came to the rescue and just like that, they had two hives.
Bees eat 80-100 pounds of honey in the winter. So Bobbi and Joe had their work cut out from them that first winter to make sure the fallen hive would survive. They fed the rescue bees sugar syrup from which they made honey to eventually feed themselves. Since that fateful fall of 2008, the Heider's bee keeping operation has grown and they now manage 40 hives in their area.
Heider's Honey is made in the Heider's kitchen. They do as little as possible to the honey once it leaves the hive. The frame containing honey is placed in a centrifuge which spins to extract the honey. The wax bits are then strained and viola, honey.
I asked Bobbi how bee keeping has changed her perspective on life. She told me she notices things she didn't pay much attention to before. She now knows that maple and daffodil are the first things to start blooming in the spring, basswood around July 4th and goldenrod and rag weed in the fall. She pays attention to the rain which keeps flowers blooming and bees busy.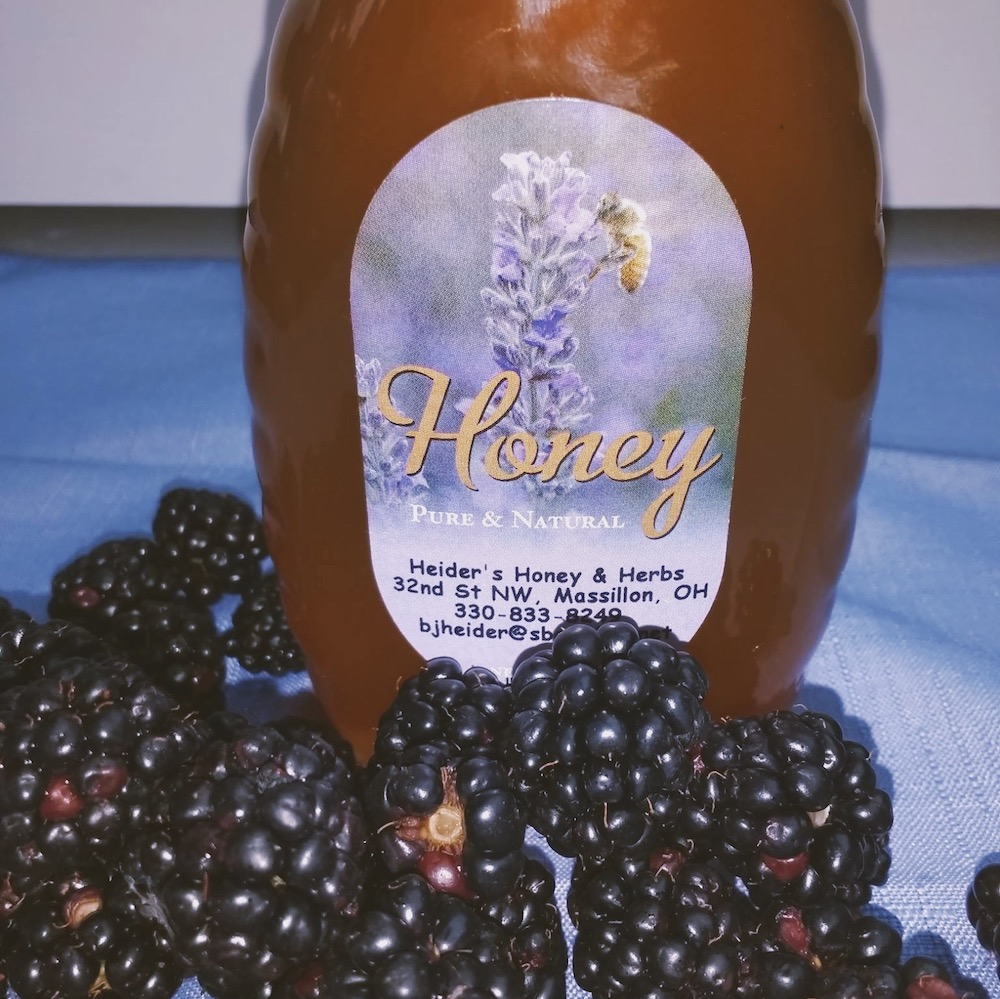 In a time when bee colony collapse disorder and die offs are a big conversation topic, Bobbi and Joe have become become accidental bee activists. They are passionate about bees and educating people who want to learn. They're active members in local organizations including the Tri-County Bee Keepers Association, the Stark County Bee Keepers and Ohio State Bee Keepers. They are students who have become teachers as they now mentor fledgling beekeepers and educate the public about bees. They've won multiple awards at the Stark County and Wayne County fairs. In her spare time, Bobbi teaches other bee keepers how to make soap and lip balms with their bees wax.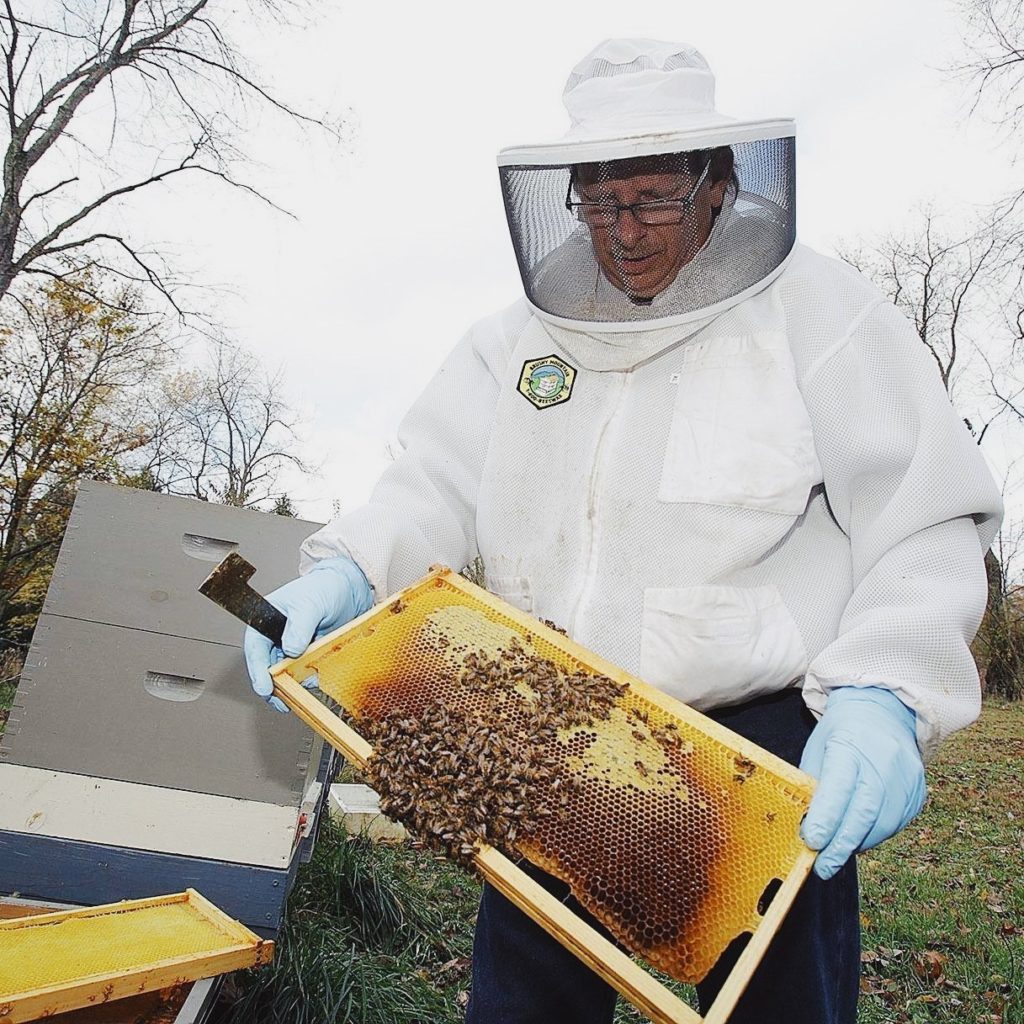 The Heider's have learned a lot since getting their first hive. Bobbi continues to tinker in the kitchen thinking up new recipes for her soaps, lip balms and salves. They will keep their day jobs for now, but hope that one day they can focus their energy on the bees.
Heider's Honey and their handmade beeswax products are available at the Massillion and Jackson Township Farmers Markets, back in June. To arrange to visit their home apiary, ask questions about their products and get information about beekeeping, you can connect with Joe and Bobbi on Facebook.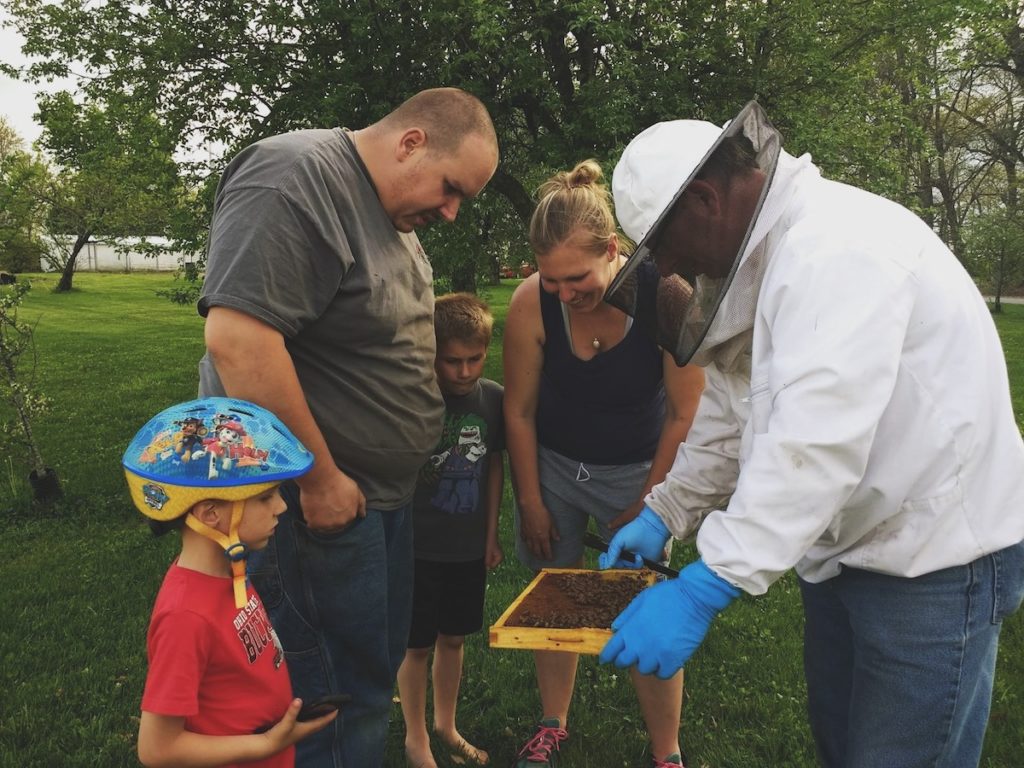 🐝 Bee facts I learned during my conversation with Bobbi 🐝
🐝 Swarming is a natural part of bee reproduction. When bees outgrow the hive, a new queen is produced. Just before she is ready to emerge, the old queen leaves with half the hive to create a new one.
🐝 Bees keep warm in the winter by cuddling together and 'shivering' with their wings to generate heat.
🐝 Like humans, bees need variety in their diet.
🐝 Plant bee friendly, native plants in your yard to help support local bee populations.
🐝 Eating local honey can lessen allergies over time.

Discover more about Heider's Honey and other small businesses by visiting Love Local.