Chic. Elegant. Luxurious. Wearable. Sustainable.
Natalie Busby is located in East Nashville, situated behind Barista Parlor and next door to the new tiki bar, Chopper. You'll know you're in the right place when you spot adorable shop dog, Addison.
Natalie opened her doors in July 2018 but her brand has been around for about four years. The store is bright, minimalistic, clean and refreshing. Every corner of the space is filled with intention and care.
Each textile, design, and color has been chosen to be versatile, comfortable and of the highest quality. Almost every single piece can easily transition from a day of running errands, to a job interview or to a fun night out. They're breathable, impossibly soft, durable, beautiful, luxurious and breezy.
We sat down with Natalie to discuss her beginnings, her creative process, and sustainable fabric choices!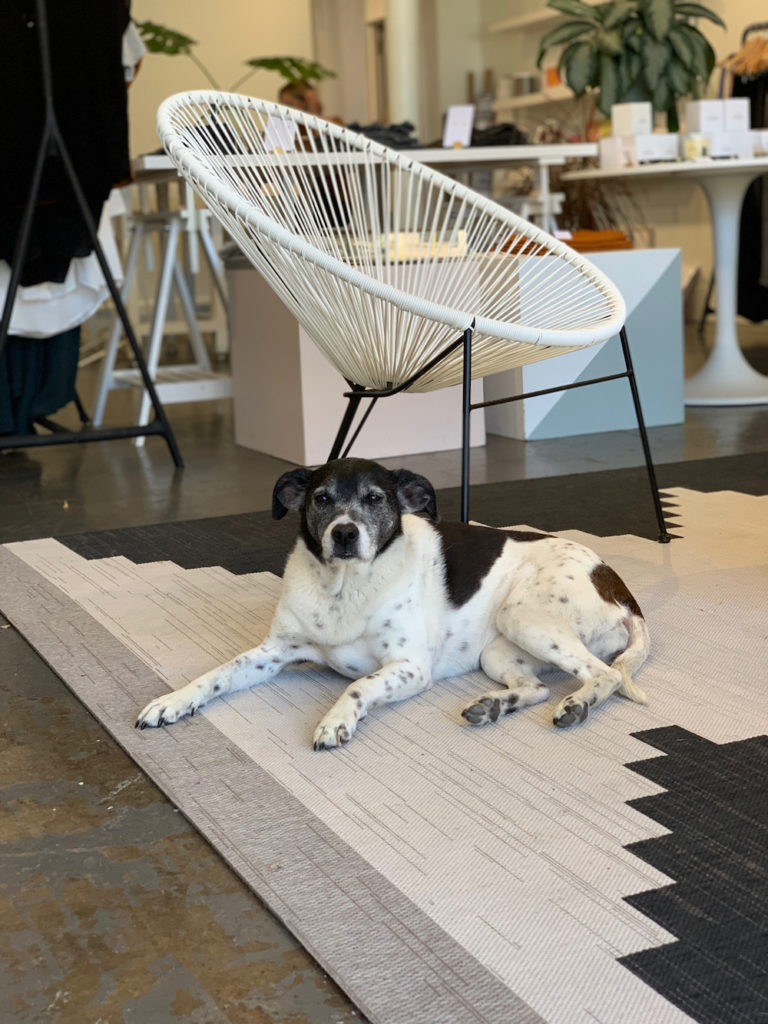 Do you design everything yourself, in house?
Yes! As you can see behind you, there are a lot of the patterns hanging on the wall. All of the mannequins are dress form so every design is prototyped. When I get that to a standard fit we have a manufacturer do the production but everything is designed here first.
I take pre-orders and only order based off of that quantity. For the most part, we do everything in small batches.
Where do you find design inspiration?
Well, the core ethos of the line is 'modern building blocks'. I started the line when I was getting close to thirty. I wanted nice pieces, white shirts or black dresses, that weren't jillions of dollars, but weren't Forever 21. Those modern staples, the pieces that live in your wardrobe and you always come back to. You can wear them in the winter layered up or you can wear them in the summer, hair down. So that's the core ethos that always comes through.
Each season I'm inspired a lot by travel. How does a garment do in different environments? How does it pack? Things like that.
And then the retail space is really great because we learn a lot from our customers. Much of the line is stuff I would wear but there are things you see and hear over and over as people come in, like, "we're looking for a great slip dress" and you discover that this is something people are having trouble finding.
We also love when there are routine pieces customers love so we can expand on them. Maybe it was two pieces and we turn it into a jumpsuit. We'll expand the product generation to give people what they want.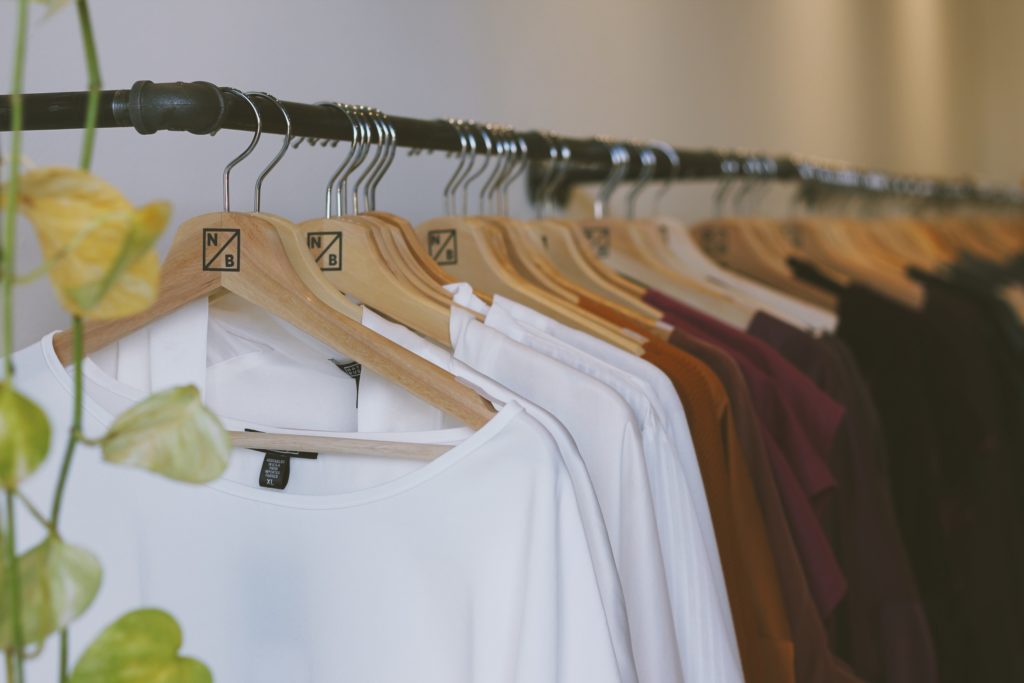 "I think its really important for a woman to feel as good on the outside as she does on the inside"

– Natalie Busby
All of your fabrics are breathable, high quality, and sustainable. You chose six different textiles: Sueded Silk, Bamboo Jersey, Cotton, Tencel, Linen and various fabric mixtures. Why these fabrics?
Yes, there are six main textiles we use but it ebbs between six and ten. We are always changing it a little bit. Fabrics are a really key foundation to the line. That's where I like to begin my design process. I think its really important for a woman to feel as good on the outside as she does on the inside. So if you're going to a job interview or a cocktail party or something, you can be comfortable the whole time. Our clothes are really loose. They're not zipped up or full of buttons. There's not a lot of hardware. It's about being really comfortable. We choose fabrics that you want to drape yourself in. They're super soft and that's what people love.
I'm a fabric geek so I love to research them and figure out what's new. There's always new information coming out sustainability-wise. One fabric may have been improved or a fabric that we thought was really good has a less-than-great production process…
I always try to stay on top of things like that. We'll flex and try new things each season based on what our vendor sends us. Like we tried hemp a couple seasons ago and it didn't resonate quite as well with our customers. It was too scratchy. It's about balancing what's great for the environment and what makes sense. Because if it doesn't sell it doesn't do us any good to continue using those resources and putting that into production. This season we introduced a new hemp material. It's a blend of hemp and organic cotton, so it's a lot softer. That one is selling a lot better. So it's all about finding different blends of mixtures. We keep our core foundation fabrics and then each season we experiment infusing some new ones based on what we find.
When you want to make the switch and go green, whether it's beauty-wise, health-wise or food-wise there's always new things you learn along the way and it's a fun process to stay on top of but it's not perfect. There are always things to learn. Being aware of what we purchase and understanding where it comes from is one of the most important steps in going through the process.
Was sustainability always the goal?
No, not necessarily. In our second season we shifted more into sustainability. It became a really quick goal the more I got into it. I always wanted the production to be less, that was always key. I wasn't quite as fabric-aware the first season. It's a combination of both gravitating towards more natural fibers because they have a better quality, look and feel. When you start actually wearing them you notice a real difference. They breathe, they feel more comfortable. It's hard to wear tencel and go back to polyester.
Sometimes if you choose to pay a little more for something better quality it's a little self care moment where you can look into your closet and say, 'mmm I'm going to wear my nice shirt today!'
Most women day-to-day have lives that call for pretty durable, machine-washable items that you want to reach for over and over—and we definitely have some fancier silks for when you're ready for a killer event—but a lot of our best sellers you can wear anywhere. They can be machine washed, dressed up, dressed down, or you can go to work, be fancy, wear it with leggings, whatever you want!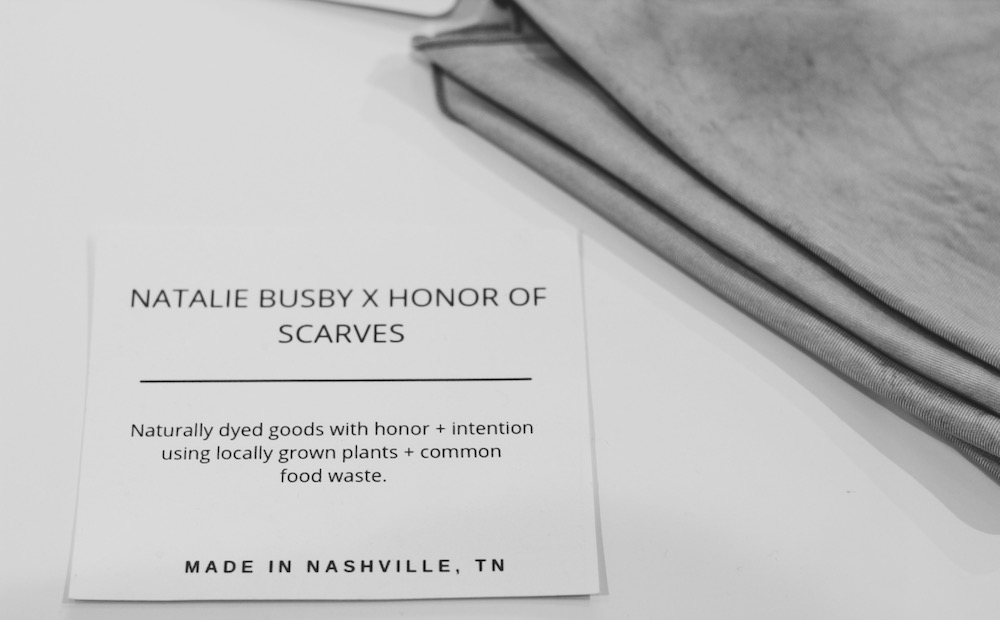 How did Natalie Busby begin?
I went to school in Chicago and have a fine arts degree. Even though I started as a fine arts major I jumped into the fashion program because I got really interested in the way fabric moved around the body. I took some figure drawing courses and just went from there.
I was trained in a very conceptual, artistic approach to clothing. We were really pushed in terms of both our pattern making and construction methods to turn them into things that are more experimental and not necessarily everyday approachable. But it's a great way to learn and expand your mind, figuring out what kinds of crazy patterns you can produce. One of my senior pieces was this mosaic dress that had over one hundred pattern pieces. It looked like a kaleidoscope.
After college I moved down to Austin, Texas and started working retail at By George. They carry a lot of really cool every day pieces but also Celine and Balenciaga. It ended up being a great learning space for me to translate really conceptual design into working retail. It was also cool to see really talented European designers do things that were simple yet complex and interesting. They would take one thoughtful detail and change it to make the piece really special.
I'm so glad I didn't launch a line right out of college and experienced retail first. Getting to watch women shop and seeing what they were interested in, what they'll pay for, what parts of their bodies they were self conscious about was so valuable. How colors versus prints sold, the way fabrics move on the body, learning merchandising etc. helped me get to where I am now.
From there I actually got really into merchandising and ended up moving to Boston and working for Neiman Marcus doing window displays. Translating my By George experience into a bigger corporate company where you only do a little tiny piece was interesting. I worked there for a couple years and then finally got to a point where I was ready to launch my own line.
What kind of changes, if any, would you like to see in the fashion industry?
Hmm, lots! I think brands are getting more transparent, which is a great thing and consumers are getting more aware. Both of those continuing to grow is great for brands to show what they're doing: where products are being made and what fabrics are being used. But I think it's just as important for consumers to do that too. Thinking something is beautiful is really different than supporting it with your dollars. Choosing a greener choice, even if it's a slow process can happen by just turning the tag and seeing what the clothes are made of, ask the brands or designer questions and doing it thoughtfully and kindly. For example, "we would love to see you using this fabric instead".
There's a lot of power in consumer's hands to both ask questions and support the things they think are beautiful with their money. You can't do it all at once. If you decide to buy strictly clean beauty or switch to all natural cleaning products, that doesn't mean 'throw everything away'. It just means that as you start buying more, you're more conscious. You might spend a little more but it's made in the U.S., made of a fabric that will last, and made by a person or brand who's mission statement you want to support.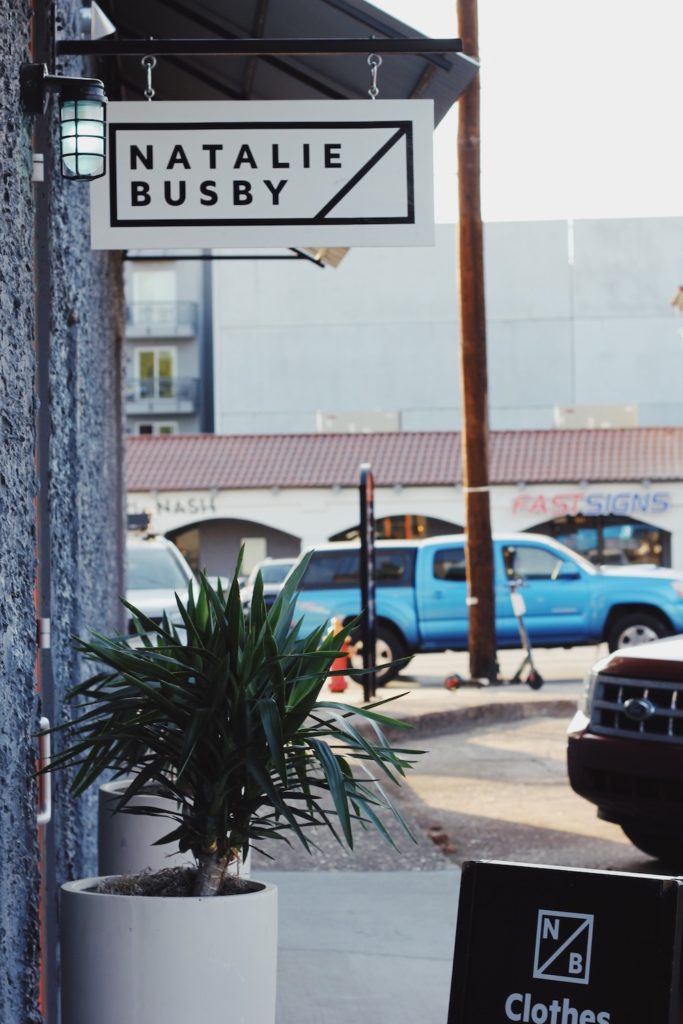 Where do you shop?
I mostly wear my own clothing! Because I love it and to test it out! A lot of the time right before we release a product I'll wear something a bunch just to understand any potential problems before they occur.
Otherwise, I love to shop. I sell wholesale to other stores, and I like to support them. They're all businesses that are supporting me and they're local and interesting in their own unique ways. When I do trunk shows I try to look for other small businesses to buy from. I just love so many Nashville brands, I'm always shopping around town!
A little vintage shopping of course every now and then too!
"Being aware of what we purchase and understanding where it comes from is one of the most important steps in going through the process"

– Natalie Busby
You can find Natalie Busby on and other sustainable clothing brands on Love Local.