There's a movement taking hold around trash. As consumers become more aware of the issues surrounding trash, specifically plastic waste, they are not sitting idly by. People are seeking out alternatives to plastic, asking questions about the products they use and supporting plastic free brands. Shoppers, however, aren't the only people taking action to mitigate plastic pollution. Across the country, ambitious entrepreneurs are adding a new type of shop to main streets, the refill shop.
One of the latest additions to the refill shop community is Sage Refill Market which opened May 2020 at the intersection of Nashville's 12 South, Edgehill and Wedgewood-Houston neighborhoods. The heart and soul of the shop is the family behind it, the Duren's – Diana, Mark and their daughters. From the meticulous sourcing and knowledge behind each brand, to the artwork that adorns the shop windows, and even the selection of vintage goods, each family member has put their own personality into the shop.
This is the story of how the Duren's brought their idea for the Sage Refill Market to life as told to Love Local by Diana Duren.
---
What was the catalyst for opening Sage Refill Market?
We have always tried to be good stewards of the environment, from recycling to composting to using reusable bags and bottles. However several years ago, news came out about the rate of plastic that is actually recycled – less than 10% – followed by reports that countries in southeast Asia were no longer taking our plastic (I am embarrassed to admit I didn't even know it was being shipped to them). We did a deep dive into our plastic consumption to try and figure out how to replace those items with more sustainable ones, and frankly it was overwhelming. Plastic has become so pervasive that it is in almost everything. We committed to do better, but quickly found that it is easier said than done. Resources and availability for sustainable items can prove challenging and we found ourselves piecing together products from multiple places, including a variety of online stores. Nashville is fortunate to already have one refill store, but it is on the opposite side of town, and we wished there was something closer to us. And we began to wonder if it was something we could do ourselves for our community. It may sound crazy, but the moment we put this idea out there, things quickly fell into place for us, and we decided to take a chance and go for it.
Did you always envision being a small busisness owner?
Honestly, being a business owner was not something we had ever thought about. This wasn't the fulfillment of a lifelong dream, but more the desire to help solve a problem, and be a resource for our community to reduce plastic waste. We were literally building a business with no real skills for it – just a passion for the mission we were on.
You opened Sage Refill Market during a pandemic. What was the process like creating and opening a store during these extraordinary times?
I don't know what it would have been like to open a business during "normal" times – I am sure it would have been different in many ways, but opening during a pandemic was what we had to navigate through. While it proved challenging in so many ways, there were also some bright spots. We opened a little sooner than anticipated by only offering curbside pickup – that allowed us to continue work inside the store, but it also meant we had to change up our business model and quickly put all of our inventory on a website (that we hadn't made yet!). We also had to think about how to get our bulk refill products to customers, so decided to prefill containers and hope they would bring them back to fill when everything opened back up. The past 6 months have been stressful, exciting, and rewarding….which honestly is probably true for most new businesses!
How did your daughters get involved and what are their roles at Sage?
Our business is truly a family affair. Our oldest daughter runs the store during the week and helps with inventory and ordering, and our youngest daughter created the artwork for the windows and mural. My husband and I take turns [working] on the weekend, both of us are still employed in our full-time careers – I am an art director and graphic designer and Mark is a special education teacher.
Our daughters are the catalyst for why we decided to open this business – young people are the ones that will be dealing with the effects of pollution on our planet, and we believe there is an opportunity to turn things around. I am a risk-averse person by nature, but it was the push from our girls to do this that gave us the nudge we needed to go for it.
How did you choose the brands to carry in the store?
We thought it would be difficult to find vendors that meet our high standards of all-natural ingredients and sustainable packaging. But frankly this was one of the high points of starting the business (and continues to be!). The businesses we contacted were passionate about what they were doing, and eager to work with us and support our mission.
We started by looking at other eco-friendly shops around the country, and seeing what brands they carried, and then contacted those vendors to learn more about them. We tested so many products – admittedly that part was overwhelming and we had to enlist the help of friends because we couldn't try them all. In the end, we felt like we had the best of the best, and could stand behind every product and attest to it's quality, it's mission, and just as important, it's affordability. Because that was also very important to us. We wanted our products to be accessible to everyone.
Tell us about the "Meet our Vendors" section of your website?
As a small business, one of the unique opportunities we have is to introduce customers to the people and stories behind the brands we carry. For us personally, it has been such a treat to get to know all of these amazing people – how they started their companies, what they have learned along the way — and we wanted to share that. We came up with this idea to do quick Q+As, and post them to our site for anyone else who was curious. We don't know if customers enjoy them as much as we do, but we hope so!
What was the first zero waste practice you implemented into your daily life and what motivated you to make that change?
Many years ago we started using reusable bags to shop, and that is still one of our first recommendations because it is so easy. We have reusable bags that are so old, but they are still in great shape! Really the only hard part is remembering to bring them, so we keep a stash in our cars, and a stash at home, and rotate them out. One of the newer products we have become obsessed with and can't imagine ever going without is the Swedish dishcloth. These things are amazing. For us, they have completely replaced our stinky sponges, they don't smell, they don't leave streaks, and they are super easy to clean (plus they have cute designs!). And when they have reached the end of their life, you just toss in the compost.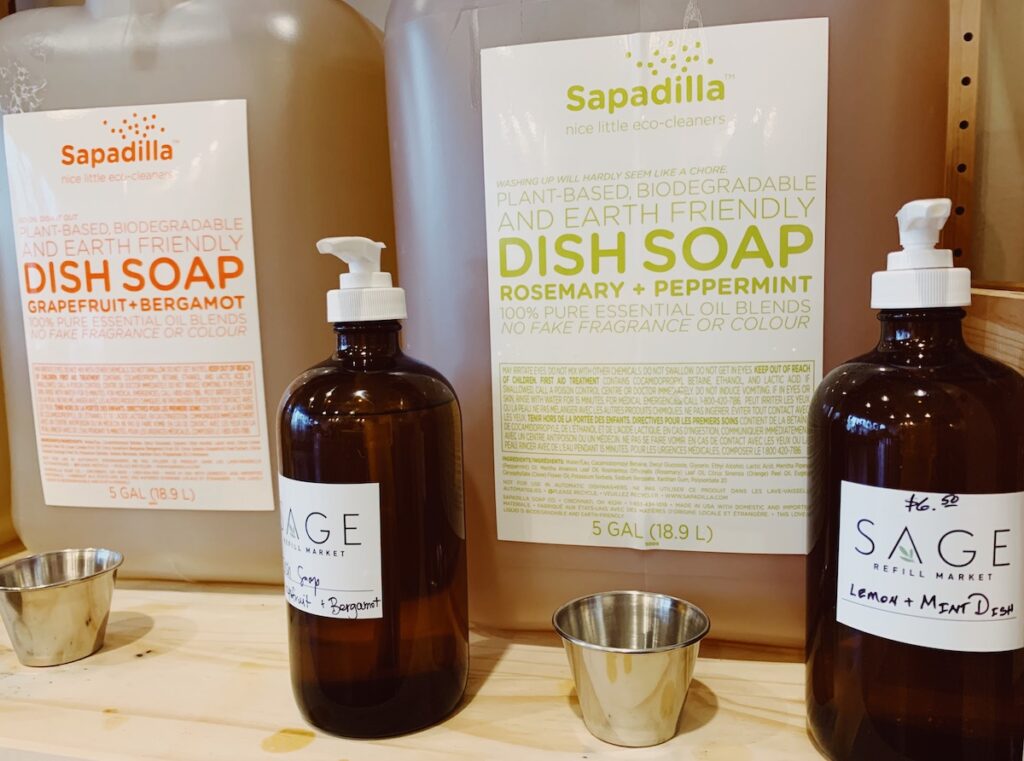 How do you envision Sage Refill Market easing the burden on a busy mom's lifestyle?
If you are a mom wanting to use the most eco-friendly products you can, and reduce the amount of plastic in your home, we provide a one-stop-shop for almost all your daily needs. From shampoo, to soap, to laundry, to glass cleaners, you can get them all at Sage, and in bulk amounts to limit not only the number of places you have to go, but the frequency. We also have some zero-waste items that you may not even think about, like our Reusable Kitchen Towels, which replace traditional paper towels. This super easy swap means you don't ever have to worry about running out of paper towels (hello early days of Pandemic!), and they create no waste at all. And they come in fun patterns!
What advice would you give to someone who doesn't know where to start in reducing their waste?
The number one thing we tell people is to start small. The amount of plastic in our society is truly daunting, but with every little change we make, we are making a difference. In our minds, not only are we collectively helping our planet with these small changes, but we are showing the larger companies that there is demand for plastic-free products, and we think that demand will push them to make important large-scale changes that will have an even greater impact in the long term.
What are a few of your favorite products?
Swedish dishcloths: These replace around 17 rolls of paper towels or sponges, they don't smell, easy to clean, and have cute designs. Best of all when they have reached the end of their life (when? mine is already 9 months old!!) you toss in the compost.
Combination of beeswax wraps, silicone huggers, silicone bags: These items have allowed us to completely eliminate plastic wrap and plastic baggies from our home!
Little Seed Farm cream deodorant: This all-natural deodorant not only works, but it comes in a variety of lovely scents, is made locally, and comes in bulk – yes, you can actually refill deodorant! Who knew?
French market bags: We love these reusable bags because of their versatility. Not only can you use for shopping, but they are great to throw a book and water bottle in and take to the park, or carry lunch to work, etc. They are super stretchy and easy to clean.
Find out more about the Sage Refill Market
Use the code LOVELOCAL15 for 15% off your first order.