We recently spent a long weekend in New Mexico, visiting Albuquerque, Santa Fe and Taos. We've put together our list of places you must visit for locally sourced food, organic coffee and totally unique experiences.
Our weekend journey starts in Albuquerque with lunch and a stroll through the market at Los Poblanos Historic inn & Organic Farm. Located about 20 minutes from the ABQ airport, this is the perfect place to stop for coffee and a bite. A quaint tree lined driveway transports you into a tranquil setting. As we drive up along the lavender field the scenery opens up and gives way to two towering silos and the main buildings of the inn. Take your time walking through the farm shop. They've curated a beautiful collection of locally made goods, including products made with what they grow on the farm, think lavender bath products, local honey and Chile Rojo dipping herbs. Visit the coffee bar to order freshly prepared lunch items and venture outside to enjoy them in the sun.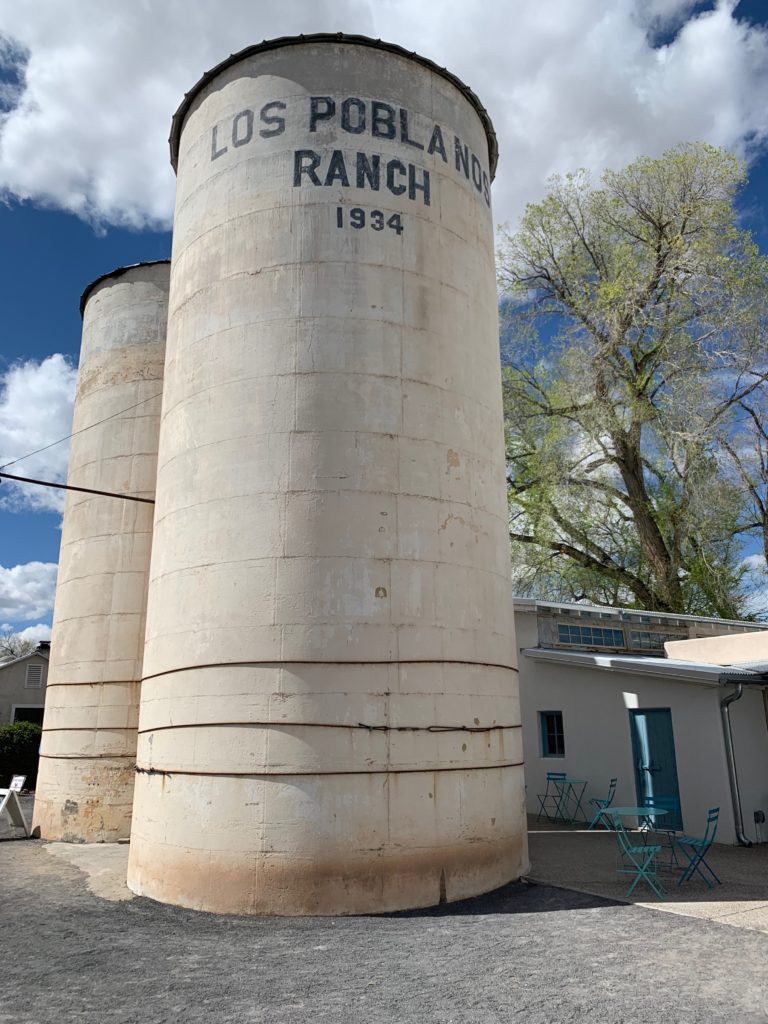 After getting some fresh air and a caffeine fix, we continue our journey to Santa Fe. It's difficult not to be stunned by the vastness and beauty of the scenery of New Mexico. On the drive from Albuquerque, we're surrounded by the rolling expanses of flat land dotted with shrubbery which dead ends into the mountains. The scenery changes into a traditional downtown square surrounded by the pueblo architecture characteristic of Santa Fe.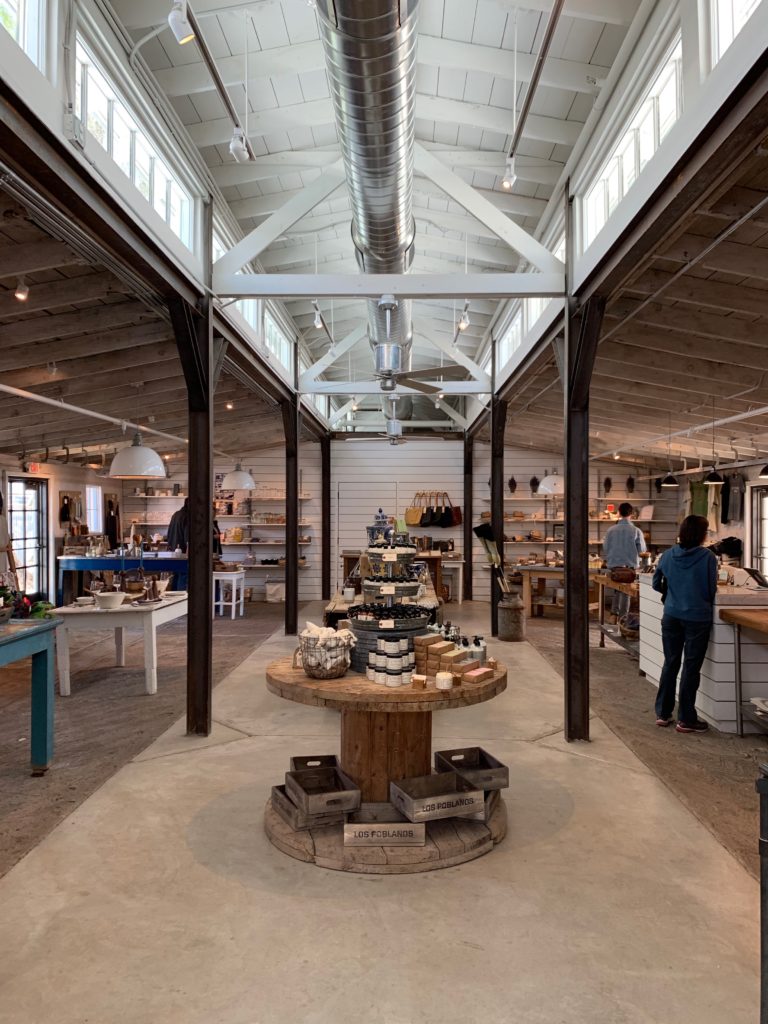 We checked into the Rosewood Inn of the Anasazi, a quaint and homey hotel. The Rosewood's sustainability efforts include recycling discarded soaps, phasing out print newspapers and participating in Earth Hour, turning off non-essential lights for an hour to bring awareness to the negative effects of climate change.
The Albuquerque, Santa Fe, Taos area has a rich agricultural history. Dating back thousands of years, corn, squash and beans were key crops. Eventually, Spanish explorers introduced livestock and different fruit and vegetable seeds to the region. The area continues to nurture its agricultural heritage with lots of organic farms and a restaurant scene that sources almost exclusively from local purveyors.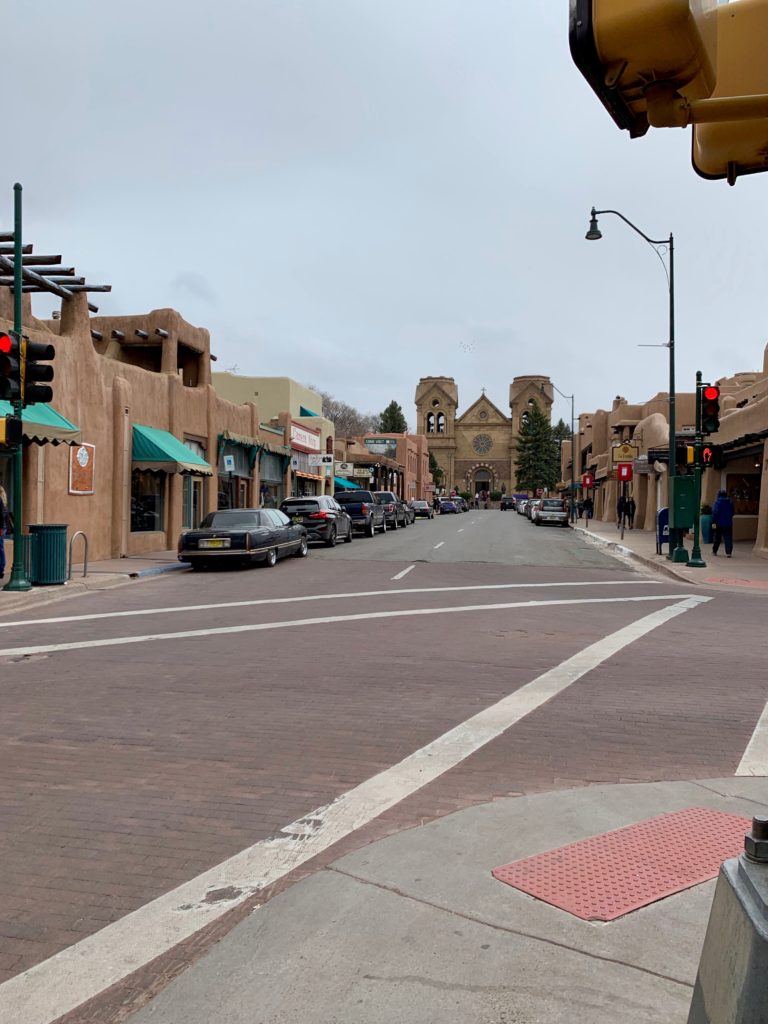 Our first dinner is at Santa Fe's Radish & Rye where the upscale dining roomoffers a nice ambiance. The menu changes seasonally and by sourcing directly from local farms and ranchers, they are able create 'farm inspired cuisine' in the form of beautiful, fresh plates.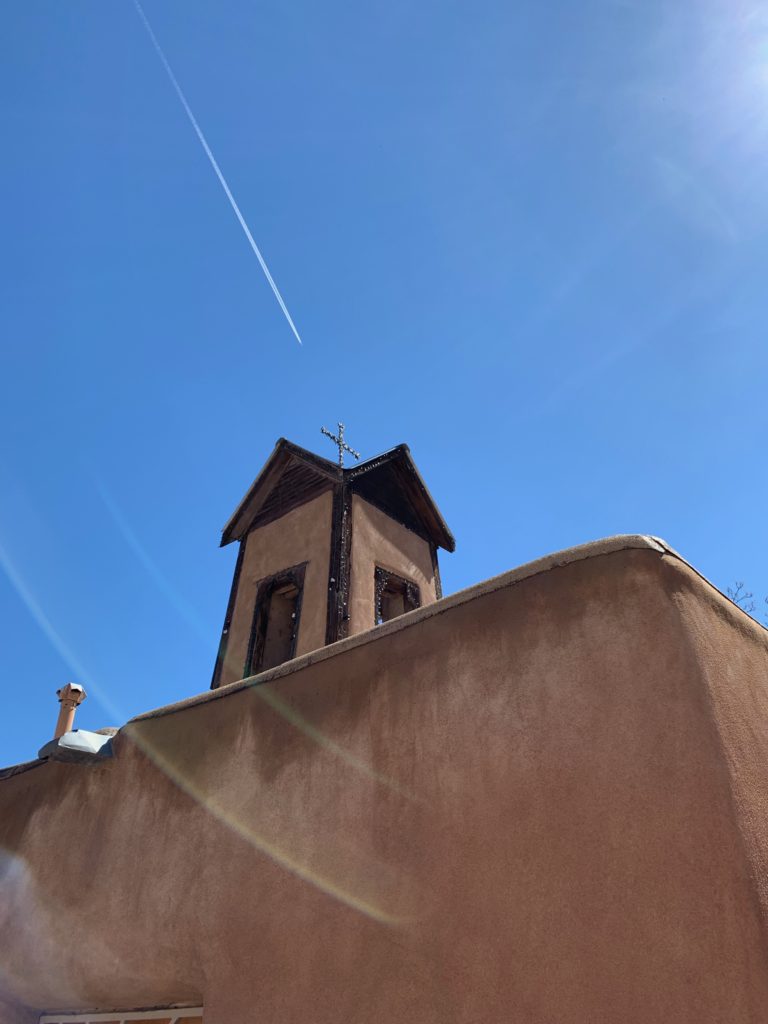 For something more traditionally Southwestern, try Eloisa. Their menu of tapas explores Latin, Southwestern and Northern New Mexican flavors. Start with a few expertly crafted small plates before you move on to locally raised pork chop.
In between amazing dinners, you will undoubtedly be lured into shops by amazing art, turquoise jewelry and the rugs. When you need a respite, head over to Ohori's Coffee to get a cappuccino made with organic coffee beans. Then head to the Santa Fe Canyon Preserve where you can go for a hike and get a healthy dose of nature. Start at the Cerro Gordo Trailhead, you'll get your heart rate up while you take in the beauty of the Twomile Reservoir.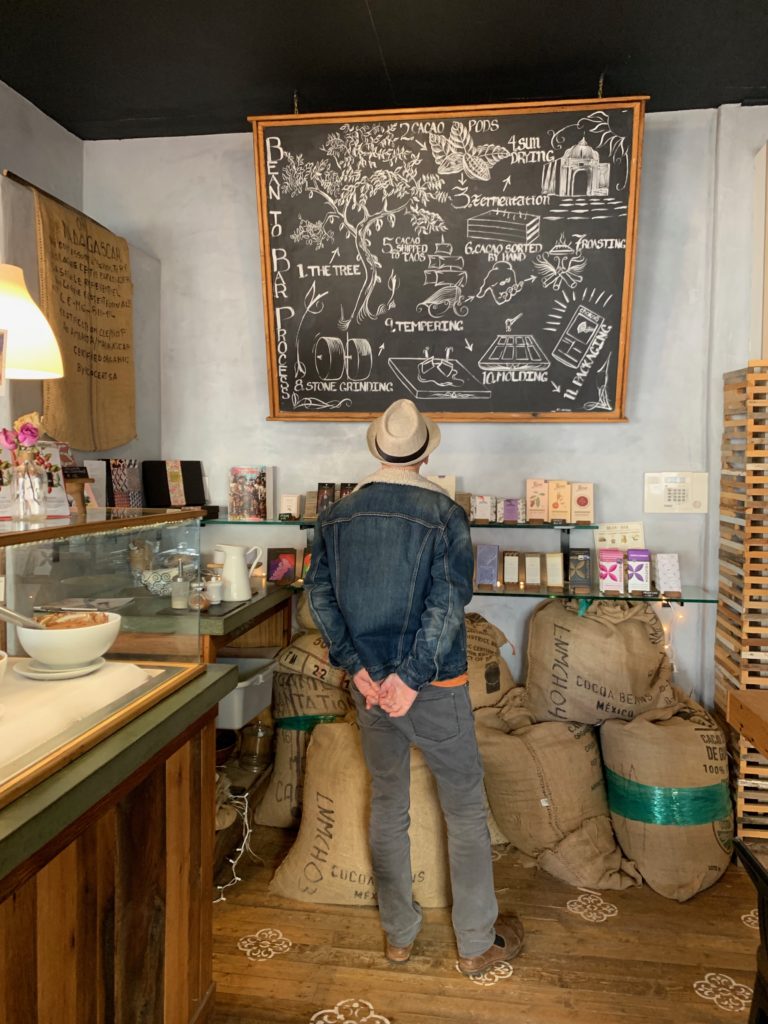 We took a day trip to Taos to look at art and see the Rio Grand Gorge. The drive between Santa Fe and Taos is a gorgeous one. We chose the high road, and wound our way through gorgeous mountain scenery up to the small ski town. Taos, like Santa Fe, is known for local artist galleries. We fueled up at World Cup Café. Husband and wife owners Patrick Larkin and Andrea Meyer, have taken care to only offer organic products at the café, everything from the coffee, to the milk and the pastries which are made locally every day! After checking out the art, we meandered down a lane just off the plaza into Chokola'. Owned and operated by husband and wife team, Javier and Deborah Abad Etxaniz, Chokola' is a lovely small batch, organic chocolate maker. They source all their beans ethically and handcraft their chocolates. Stop in for peek inside their lab and pick up the perfect gift to take home, if you can wait that long.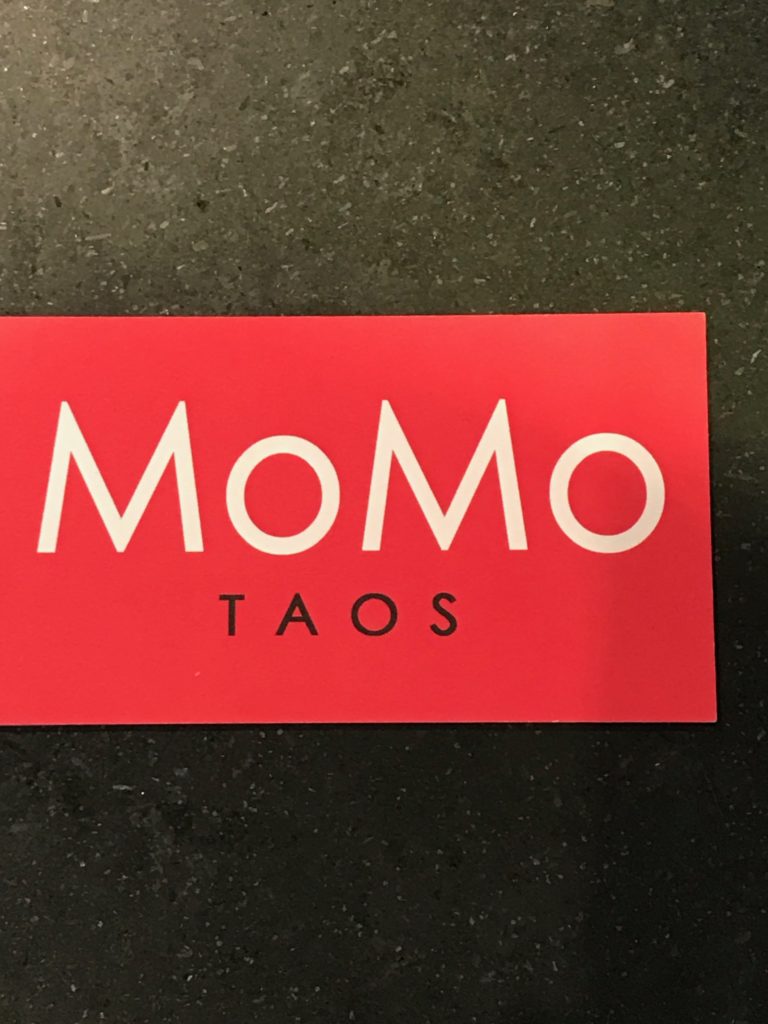 Wander into MoMo Taos to find exquisite jewelry handmade by owner Moriah Stanton. Her beautiful shop, located in a 19thcentury historic hacienda style adobe, also features local artists and artisan made goods. If you were to decide to have dinner in Taos, The Love Apple is the place to be. Located in a catholic church dating back to the 1800's, The Love Apple features local dishes made with locally sourced, organic ingredients.
After seeing the Rio Grande Gorge, we made our way south on the low road, which took us along the mountain range back to Santa Fe.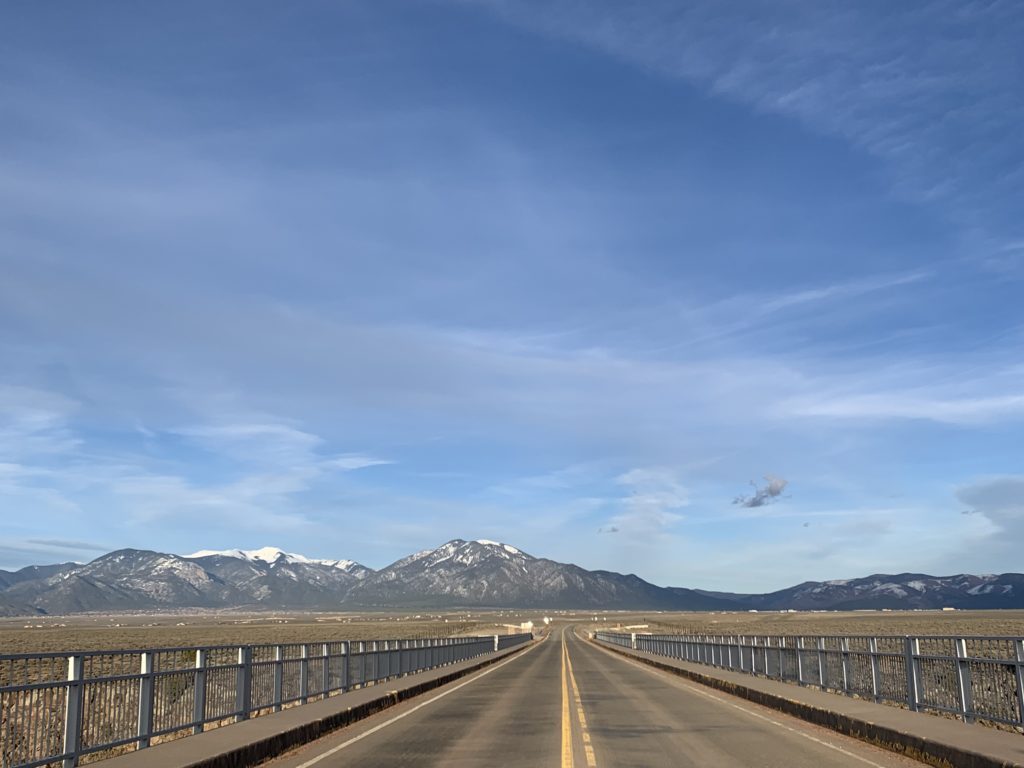 No matter what brings you to this area of the country, you can't help but be moved by the landscape, creativity and a community dedicated to keeping local culture alive through food and art. You will find a closely knit community that supports each other and has so much to show you if you're curious enough to look a little closer.
Los Poblanos Historic Inn & Organic Farm 4803 Rio Grande Blvd NW, Los Ranchos De Albuquerque, NM 87107
Radish & Rye 505 Cerrillos Rd, Santa Fe, NM 87501
Eloisa 228 E Palace Ave, Santa Fe, NM 87501
O'Hori's Coffee 1098 1/2 S St Francis Dr, Santa Fe, NM 87505
Chokola' 100-198 Juan Largo Ln, Taos, NM 87571
World Cup Café 102 Paseo Del Pueblo Norte A, Taos, NM 87571
MoMo Taos 133 Bent St, Taos, NM 87571
The Love Apple 803 Paseo Del Pueblo Norte, Taos, NM 87571
Discover other Love Local city guides on our blog.