Los Angeles, CA, known for movie studios, movie stars, the Hollywood sign and the beach. The city, home to 4 million, is nestled between the San Gabriel Mountains and the Pacific Ocean. Within its 469 square mile footprint are lots of little neighborhoods, with their own unique personalities; they're all worth a visit. One of those neighborhoods is Venice Beach.
Venice Beach, stomping ground of The Doors in the late 60's, is home to the infamous boardwalk, canals with their mix of historic and modern homes, the iconic shopping street Abbot Kinney, and more.
Venice has an interesting history; it was first developed by millionaire Abbot Kinney in the early 1900's to resemble Venice, Italy, complete with canals. During the Depression, Venice was annexed into the city of LA where it's remained ever since. During WWII it was a popular destination for sailors on weekend leave and the 60's and 70's drew a new bohemian and artistic crowd. That bohemian energy has stayed with Venice. Today the vibe is boho mixed with surfer mixed with LA glam.
We've compiled our latest Venice obsessions. Whether you're visiting for an afternoon or for a week, pepper these not to be missed, independently owned shops, restaurants and coffee shops into your itinerary.
Gjusta is located in an unassuming building on Sunset, the smell of baking bread will guide you to it. Stop in for a coffee and croissant in the morning. They have the most delicious chicken and dumpling soup on the dinner menu. Take a number, order and sit out on the patio to enjoy the fresh California air. They also have a great selection of smoked fish and cheeses, YUM.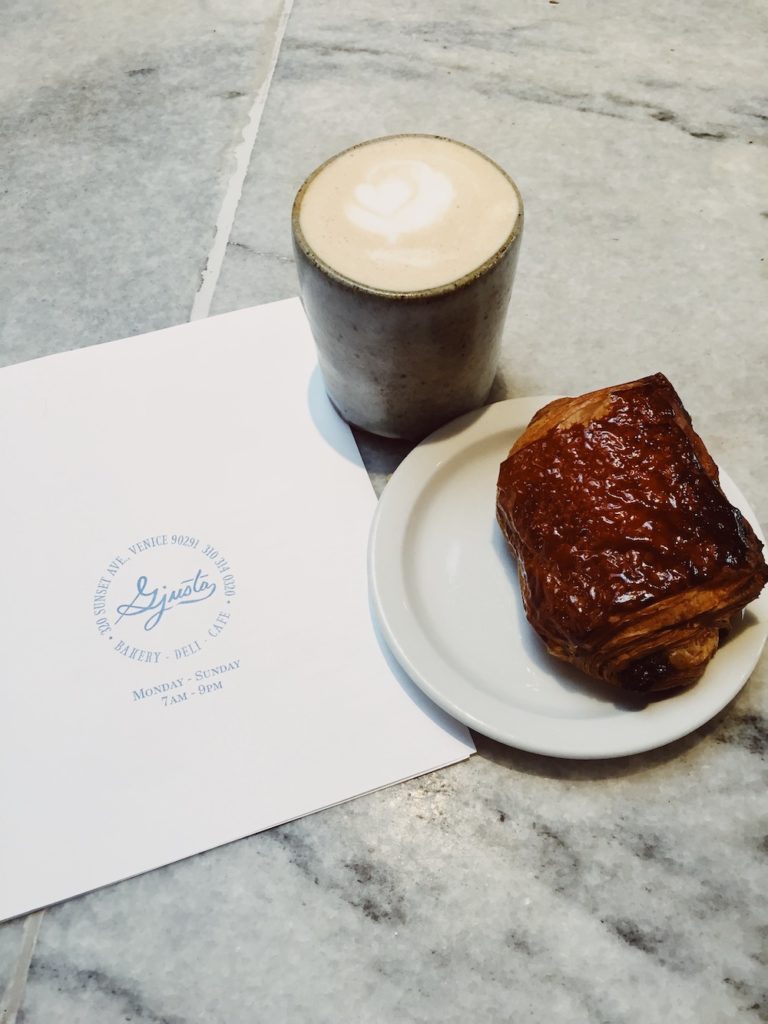 Gjusta's sister restaurant MTN is a farm to table Japanese pub inspired restaurant featuring gorgeous and delicious small plates. You can literally order anything and it will be good!
Flake Venice with its ideal location, on the way to the beach, makes it the perfect stop for a breakfast burrito or açai bowl to fill up before you start your beach day.
Abbot Kinney is home to a few great coffee shops, Intellengistia is a great place to go if you want to have your coffee there. Pull up a seat on the wooden bleacher style seats out front to people and dog watch. Tried and true Blue Bottle, makes a delicious cup of coffee as well.
We love brunch at Café Rose. Located on Rose and Electric, it's a fun atmosphere with great food and coffee. Cozy up at the bar to enjoy some eggs and conversation. They also have a little coffee bar where you can pick up coffee and pastries to go.
The Butcher's Daughter, an extension of the NYC restaurant is the perfect spot for vegetarians and vegans. Their plant-based menu has loads of delicious salads and pizzas, trust us you won't miss the meat. They also offer a selection of fresh juices that are wonderful on a hot day.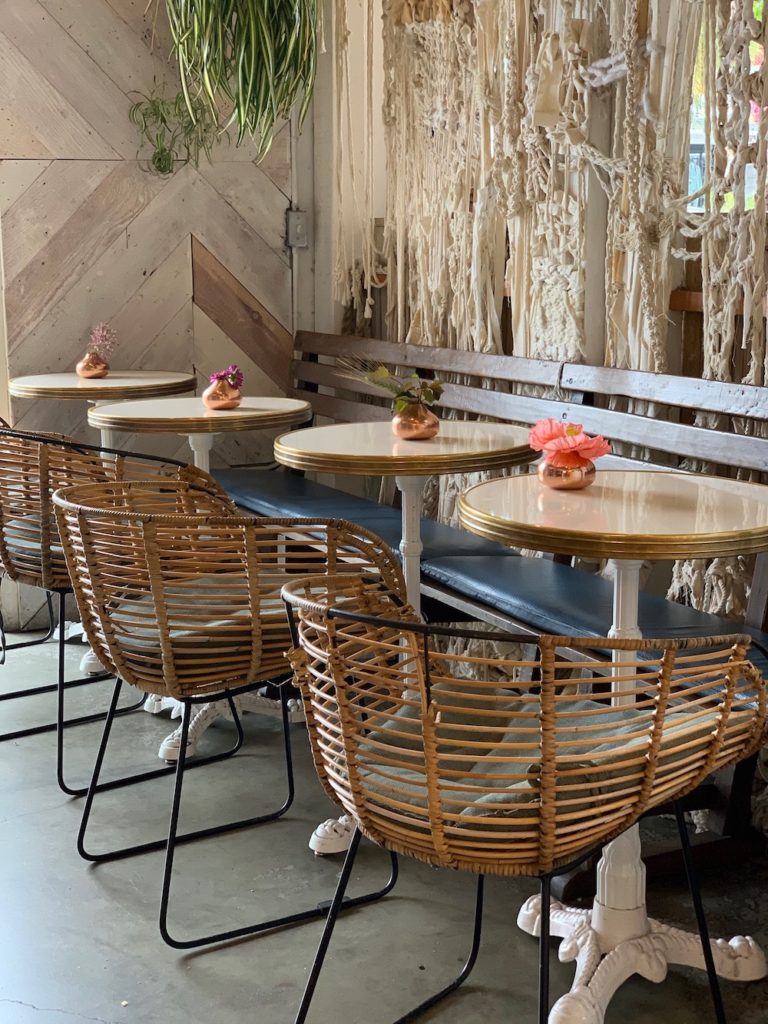 Erewhon, a boutique grocery store, recently opened its doors on Venice Blvd. to the delight of many Venetians. The store features an entirely organic produce section as well as a hot and cold deli where you can get a salad or chicken dinner. Everything is sourced responsibly and sustainably.
When at the beach and you need a recharge, stop by Menotti's for a coffee. If you're looking for something a bit stronger, head over to Tocaya Organica for a glass of white wine and order some guacamole off their entirely organic food menu. On the north end of the boardwalk you'll run into the Venice Ale House, which features local beers and an organic food menu.
Abbot Kinney's Strange Invisible is a sanctuary away from the bustling street. Strange Invisible is a perfumery that makes perfumes in using traditional techniques. They are all hand blended in Venice using organic and wildcrafted ingredients. Stop in and smell the scent for your zodiac sign!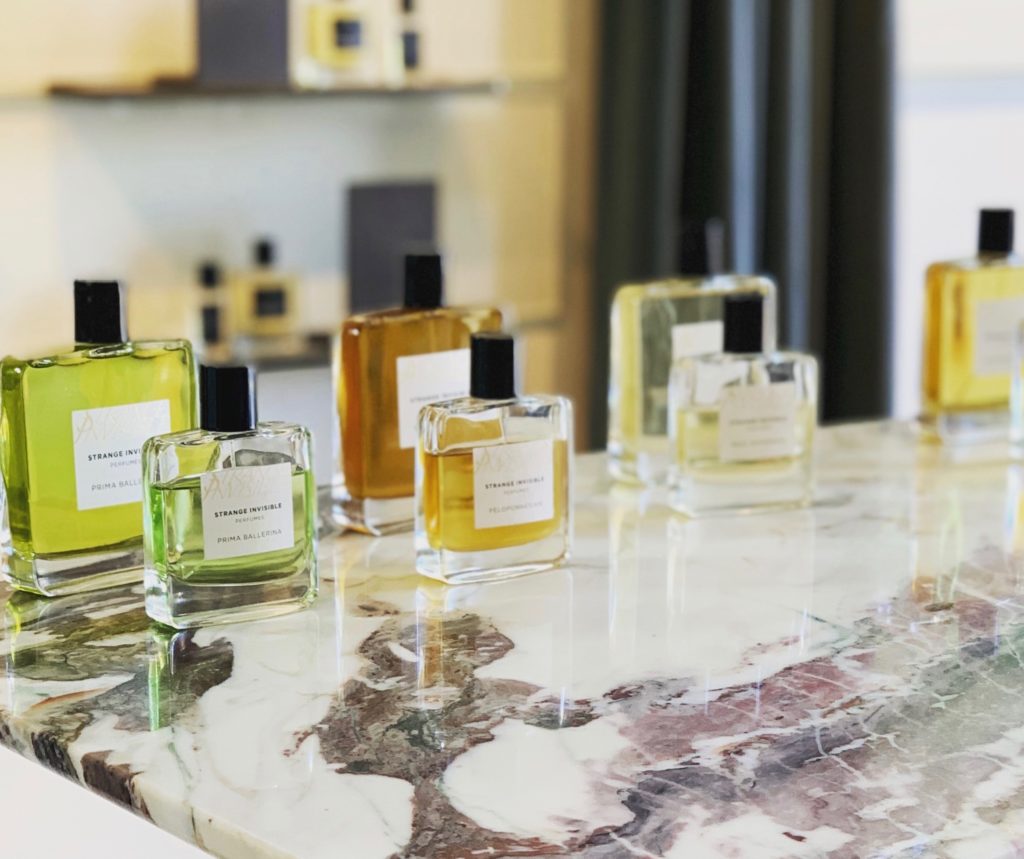 Fiore Floral Designs creates gorgeous bouquets that are perfect for your dining room table or a hostess gift. Find their flowers at Erewhon.
There's great shopping in Venice, especially on Abbot Kinney. If you feel like venturing off, there are other amazing independently owned boutiques offering sustainable pieces. Not to be missed is Christy Dawn. Her Lincoln Blvd. boutique is packed with beautiful, feminine dresses designed by her and made in L.A. Every dress is made with dead-stock fabric making each piece unique.
The General Store is fun to meander through. Browse the highly curated collections of housewares, delicate jewelry and vintage clothing.
A bit further down Venice Blvd. is Whimsy and Row, an eco-conscious boutique featuring clothing made in L.A. with sustainable and dead-stock material. You'll find classic and simple pieces.
We've mentioned dead-stock a lot. If you're wondering, dead-stock material is extra fabric fashion houses have left over and aren't going to use. Other brands can purchase and use the fabric, which prevents it from ending up in the landfill.
Late Sunday Afternoon is another brand that calls Venice home. When you walk into their Lincoln Blvd. shop, you feel transported. The wood interiors and rug-covered floors make it feel like a cozy tree house. Late Sunday Afternoon makes scarves, ascots and pockets squares with dead-stock material. With every purchase they donate a blanket to a foster child.
There are so many nooks and crannies to explore in Venice. Take a stroll down the walk streets and feel transported to a quiet garden. A walk along the canals offers beautiful views of historic homes and stunning modern ones. The boardwalk is a much livelier scene with bicycles, skateboards and muscle beach. Visit on the weekends to shop the vendors that set up along the walkway and if you're there on Sunday, the drum circle on the beach is a real treat.
Love Local champions independently owned, sustainable businesses across the country. We hope that you will add a couple of these shops and restaurants to your list next time you're in Venice Beach and support people who are making a difference in their little pocket of LA.
We are always adding to Love Local so be sure to check our website for exciting new shops, cafés and restaurants where you can shop small and sustainably!
Check out other Love Local city guides on our blog.
---
Gjusta 320 Sunset Ave, Venice, CA 90291
MTN 1305 Abbot Kinney Blvd, Venice, CA 90291
Flake Venice 513 Rose Ave, Venice, CA 90291
Intelligenstia Coffee 1331 Abbot Kinney Blvd, Venice, CA 90291
Blue Bottle Coffee 1103 Abbot Kinney Blvd, Venice, CA 90291
Café Rose 220 Rose Ave, Venice, CA 90291
Butchers Daughter 1205 Abbot Kinney Blvd, Venice, CA 90291
Erewhon 585 Venice Blvd, Venice, CA 90291
Menotti's 56 Windward Ave, Venice, CA 90291
Tocaya Organica 1715 Pacific Ave, Venice, CA 90291
Venice Ale House 2 Rose Ave, Venice, CA 90291
Strange Invisible 1138 Abbot Kinney Blvd, Venice, CA 90291
Christy Dawn 1930 Lincoln Blvd, Venice, CA 90291
General Store 1801 Lincoln Blvd, Venice, CA 90291
Whimsy and Row 12801 Venice Blvd, Los Angeles, CA 90066
Late Sunday Afternoon 1920 Lincoln Blvd, Venice, CA 90291