Your eyelids slowly shut as all-natural shampoo gets massaged into your scalp. The sink cradling your neck is surprisingly comfortable. Your stylist is giving you calm, sage, empowering advice. You feel heard, welcomed and at ease. You're breathing in fresh, clean air. The birds are chirping, parks are clean and safe, everyone composts and recycles, every car is electric, no one buys plastic water bottles, the ocean is clean, the climate crisis is declining…
Well, not quite. But almost.
Denver's Let 'Em Have It Salon (LEHI) is the epitome of environmental success, paving the way for salon's everywhere. The acronym, LEHI, for 'Let 'Em Have It' also represents a list of core values established by salon owner Fallene Wells: Leadership, Education, Humble, Innovation, and Sustainability. Only three salons in North America have become Certified B Corporations, with LEHI being the second one to do so. This means that the salon's "day-to-day operations have a positive impact on workers, the surrounding community and the environment." Although simply saying 'positive impact' feels like an understatement for what Wells has achieved. It's easy to generate a mountain of daily waste and chemicals in the beauty industry so it truly takes a village and a rigid system to maintain such sustainable integrity.
Wells as put eco-conscious practices in place at every level of the salon. LEHI uses Davine's Haircare products because they're organic, all natural, cruelty-free and have sustainable packaging. The salon air is a consistent refresher, due to the five hundred plants filtering the air and reducing stress levels.
LEHI composts with Mile High Scraps, a local service that picks up compost via bicycle. The salon recycles everything from empty color tubes to body waxing strips with Green Circle salon services. The surrounding parks are clean because employees initiated a trash pick-up to make the park a safe and comfortable space for people and animals. To top it all off, the salon runs on one hundred percent wind and solar energy and conserves water. This hair salon may be single handedly saving the planet.
To uphold her values, Wells has meticulously assembled and groomed an impeccable team. "I enjoy watching them grow, empowering them further and letting them embrace their full potential," she talks about them like a proud mother. Each team member is hired with this culture and attitude in mind. You will feel beautiful and elevated by the outstanding staff, as they have undergone a rigorous seven-month training program to inspire their best selves, in turn bringing out the best in you.
Wells is a fierce leader consistently pushing them out of their comfort zones and reminding them that they have the opportunity to make a difference every day. She likes to say that "whenever there's a problem, it's never 'that sucks.' It's always, 'what can we do about it?'"
Prime example, you currently cannot visit the LEHI website without first being invited to the event Wells organized to fight the rainforest fires burning in the Amazon. She's encouraging salons across America to participate in a Cut-A-Thon on September 22nd from 12:00PM – 3:00PM with proceeds being donated to the Amazon Conservation Association. When Wells heard about the devastating fires, she immediately figured out a wayfor salons everywhere to help.
Environmental and charitable initiatives are seamlessly woven into LEHI's daily routine. They patronize small, minority-owned and women-lead companies whenever possible. They've partnered with Tree Era to plant five hundred trees a year. The Ocean Conservancy, the Sierra Club, and the American Civil Liberties Union are no stranger to Wells' helping hands either. She's also active in the local community. The salon walls are decorated with local art for sale, donation drives are held constantly and the staff routinely volunteers their time and money to local charities.
Although she is pioneering this incredible shift in the beauty world, owning a 'green' salon wasn't the goal from the start. Fallene Wells was originally a fashion designer, you may have seen her on Project Runway. Soon after the show, she found herself at a crossroads between fashion and cosmetology school. She was accepted into beauty school first and became a hair stylist. Behind the chair, she saw a lot of ways to improve the system and as a self-taught, action-driven entrepreneur she opened up Let 'Em Have It with her husband.
The environmental enterprises were slow at first. She installed LED lights, reused and repurposed items from thrift stores, but after being open for one year and seeing all of the waste the salon produced she knew there had to be better alternatives. It was a long hard road but currently the entire salon produces a mere .1 pounds of waste a week. "You do the best you can. But we're not just doing hair. We have the opportunity to empower others to do better in a way where we're not shoving it down people's throats," she explained.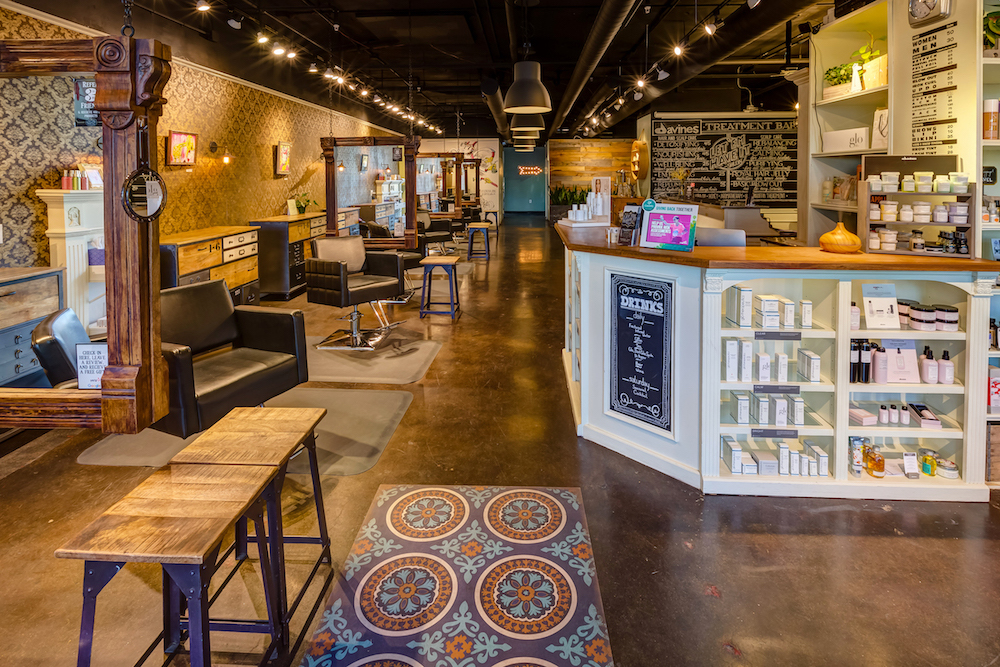 The community in Denver has accepted the salon warmly and everyone who comes in learns something new by just being in the space. The salon features a refill station. Bring in used containers and receive 15% off any purchase.
The only thing that's more impressive than Let 'Em Have It is Wells herself. She is the ultimate powerhouse. She's a confident, spunky, honest woman ripe with unbelievable drive and savvy. She is humble, sure and assertive. Groundbreaking and trailblazing at every turn, yet wonderfully down-to-earth. Her team relies on her and she relies on her team. Together there is seemingly nothing they cannot accomplish.
Her most precious advice? "Figure out your 'why'", wisdom she obtained from Simon Sinek. Once you find out what's most important to you it's easy to see a solution.
"Love what you're doing. Follow your intuition. Don't doubt yourself or others. Create small steps towards change. When you start doing that other opportunities open up to you. Don't be overwhelmed by the big picture," she said excitedly.
Innovation is paramount to Wells, she knows that not every new move will be popular at first. But it's the kind of uncomfortable change that fosters growth. She believes wholeheartedly in challenging yourself and those around you to do better and be better. It's working. We can't wait to see what she does next.
Check out the salon @letemhaveitsalon, the Cut-A-Thon, and Wells' husband's coffee shop around the corner, Torpedo Coffee!
Find a Love Local approved salon near you.
Hero image: The Team at a Fashion Shoot with guest Wardrobe Stylist, Jessica Jordan: (Lia, Uri Moreno, Fallene Wells, Jessica Jordan, Aspen Westfall)