When you enter Good Wood Nashville's showroom, you're met by a friendly staff member who greets you warmly and invites you in. The showroom is spacious and laid out with an array of furniture and accent pieces made from reclaimed wood that Founder Dave Puncochar sources from all over the area. Each handcrafted piece Good Wood turns out has a story behind it. Dave was kind enough to sit down and talk to us about some of those stories as well as his own.
Good Wood Nashville started in 2012 when Dave set out to find some old poplar to patch the floors in his East Nashville home. During his search, he fell in love with the beauty and history of old wood from barns, fallen trees and other old buildings. He loved it so much that he continued to gather wood even after his flooring project was complete.
LL: What did you love about the process of seeking out wood to reclaim that motivated you to continue gathering it?
DP: "At TN tech, they had a relationship with the Appalachian Center for Crafts. I had a lot of time when I wasn't playing football, so I took a woodshop class in my spare time. I fell in love with woodworking; I loved how pretty the wood was. The name Good Wood… they don't make it like they used to. Nothing compares to old growth. Today, wood is grown as a commodity to sell rather than for the quality."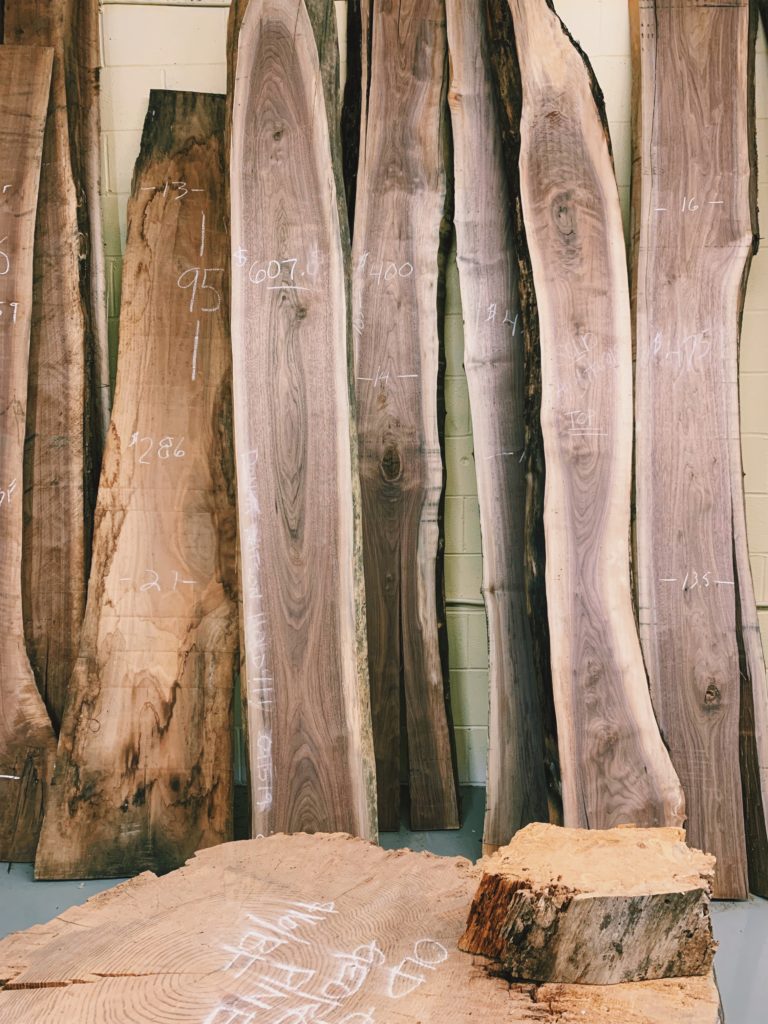 LL: What was the transition like from leaving your day job to starting your own business?
DP: "I was a good rep for Merck (pharmaceutical sales). I had high sales and still got laid off. That's when I realized I need a back up plan. And so, I created Good Wood as a hobby/backup plan. I would meet people before work, shovel wood into someone's truck, shower, put my tie on and go back to work. I felt like Michael J Fox in the movie Secret of my Success."
"My first big (Good Wood) job was for the (Nashville) zoo. The President of the zoo contacted me with very specific dimensions and color of wood he needed for a kangaroo exhibit. It took me months to get this order together."
When Dave delivered the wood to the zoo, they used it all within 24 hours and reached out to place another order, double in size. This was Dave's largest order to date and a huge turning point for what was to become Good Wood Nashville.
"I had to take days off of work, I was driving all over TN and KY trying to find wood that matched. I was literally in a field up north, picking wood up out of the dirt."
"I worked both jobs for about 8 months, but then it got so busy I got to the point where I wasn't doing my day job well and I wasn't doing Good Wood well."
While out looking for wood for the zoo project, David realized his current work situation wasn't working any longer. With the support of his wife, he took the leap, quit his day job and started selling wood out of his garage. He hired his first employee to work the warehouse while he started making sales calls.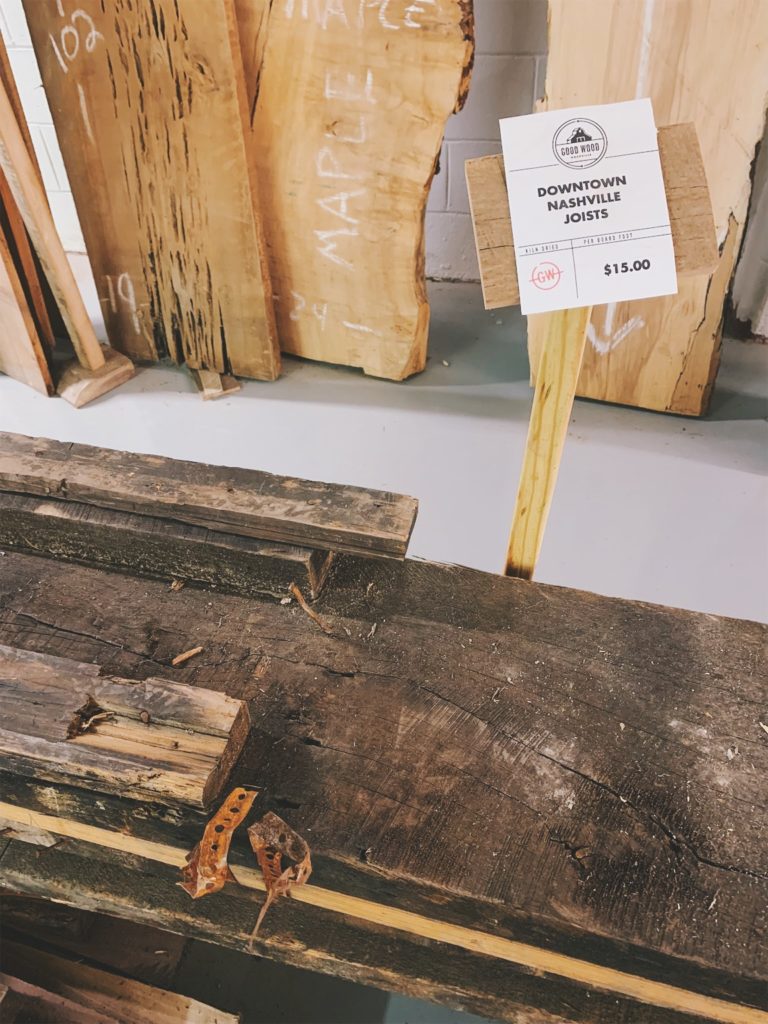 LL: How has the business evolved since 2012?
DP: "The fact that we have this building, this location and what I'm going to call a handmade restoration hardware, blows my mind. I'm so honored when I look around the showroom that we've become established in the right way. It's a curated crew. (We're) thriving with the best team we've ever had."
LL: Where do the showroom pieces come from?
DP: "A few of the pieces are not our own. I had a vision to create a permanent makers market for people who don't have a brick and mortar. We have ceramicists, candle makers, jewelry makers and painters."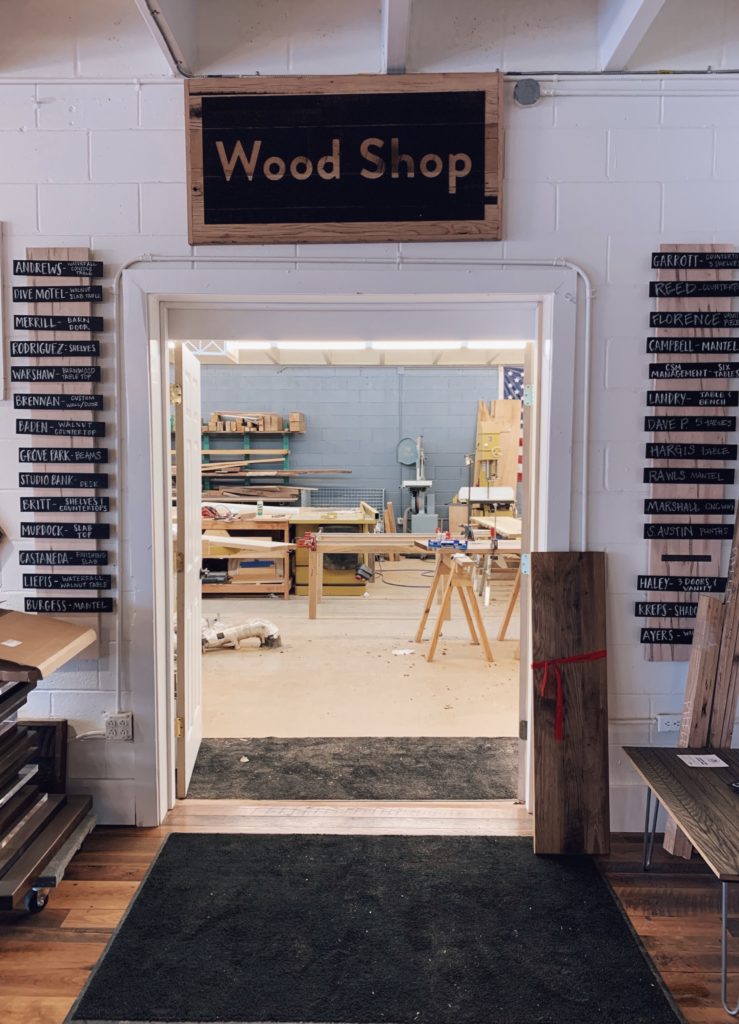 LL: Good Wood is inherently a sustainable business model. Was that a motivation for starting a reclaimed wood business?
DP: "Sustainability wasn't inherently why I started Good Wood. I was attracted to the beauty of the old wood, more than being motivated by a recycling consciousness. But I'm really proud that we save all these beams from going to the landfill. I weep over the fact that trees that are hundreds of years old get chipped into mulch and these buildings and all the beautiful architectural gems inside them get sent to the landfill. So I'm more motivated from that perspective, preserving our history and giving it new life."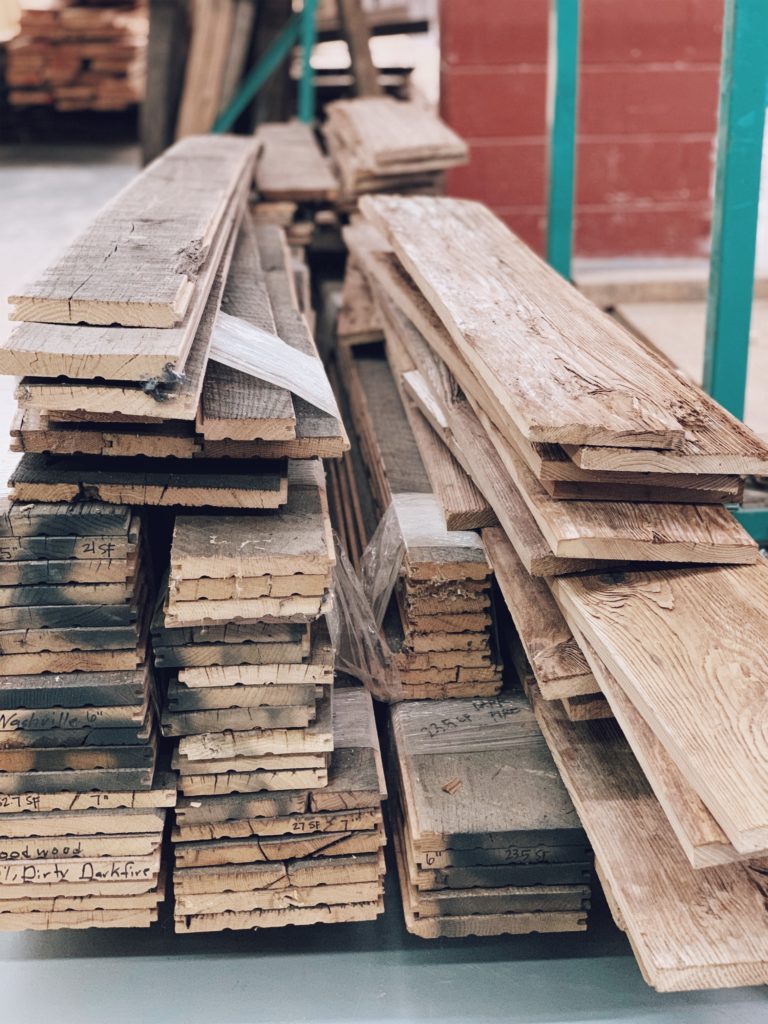 LL: Every tree, every building that becomes reclaimed has a story. What is your favorite story or one that stood out in your mind?
DP: "Right now we have wood from a building from the 1800's that will become the Johnny Cash diner. It was a building where they built carriages, there was a door between the buildings where they would bring in horses, hook them up to the new carriages, walk them out to 3rdand sell them."
"The coolest story for sure is wood we call the 1897 line. Centennial Park was our 100thanniversary as a state, a year late. All these buildings were made, it was a like a world expo. A year later all the buildings were taken down by hand. The Parthenon stayed. A few buildings were moved to other places in the city and used as small houses. The agricultural building, which looked like the Louvre, was bought and transported by mule and buggy to Smyrna by a man who used the wood to build a barn. In the 70's the Tennessean did a story about the barn. Good Wood bought the barn, took it down, preserved it and made a bunch of furniture with it. So that's really special."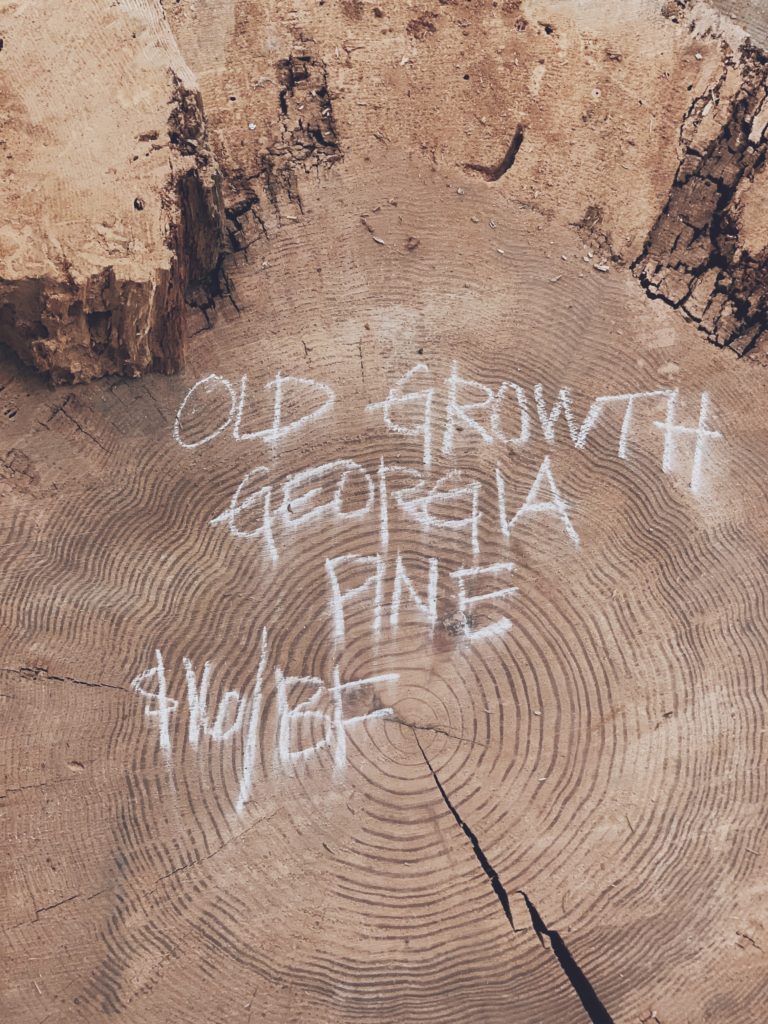 LL: Is there a project that you particularly loved, a favorite?
DP: "Two Ten Jack is one of my favorites; we did all the wood slats in the restaurant. I worked with the designer and helped with the install. We chose wood from charred tobacco barns because when you put it through the machines you get black saw marks."
It's a place he continues to frequent with his family. And he tells me he has an enormous sense of pride when he drives around town and can see his projects. "It's been an honor to be a part of beautifying the city."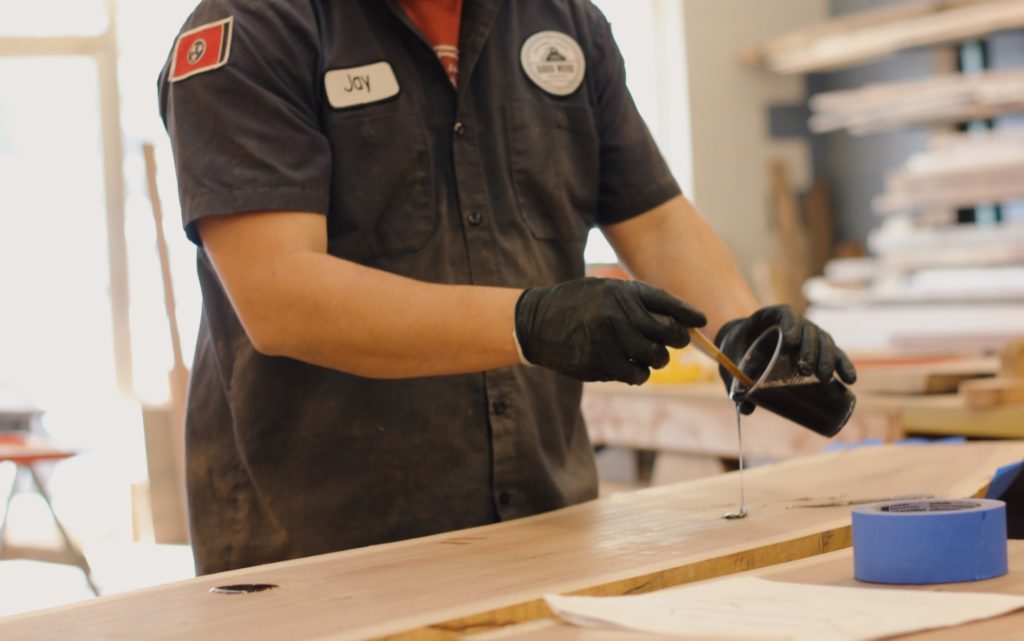 LL: What advice do you have for other entrepreneurs?
DP: "The same advice I was given years ago. Cash is king, keep your day job as long as you can. Honor your word and deliver on-time. Also, I just started in the garage! I was selling stuff from day one. I didn't spend time in an incubator trying to see if it would work. Just buy what you want to sell and try. If people want to buy what you're selling and you can cover your costs, you've got a business."
LL: How do you feel the East Nashville neighborhood has shaped you?
DP: "I became an entrepreneur because of East Nashville. There is such an entrepreneurial spirit in this neighborhood. There are so many opportunities to support each other."
LL: You participate in and host a lot of community centric events. In what ways are you shaping East Nashville?
DP: "I really try to promote other people, that's where Nashville is different. There's enough room. I love being in the community, being plugged in and love helping."
---
We enlisted Good Wood to make a walnut bench for us. We followed the project from slab to bench, see our work in progress photos below. We couldn't be happier with the result!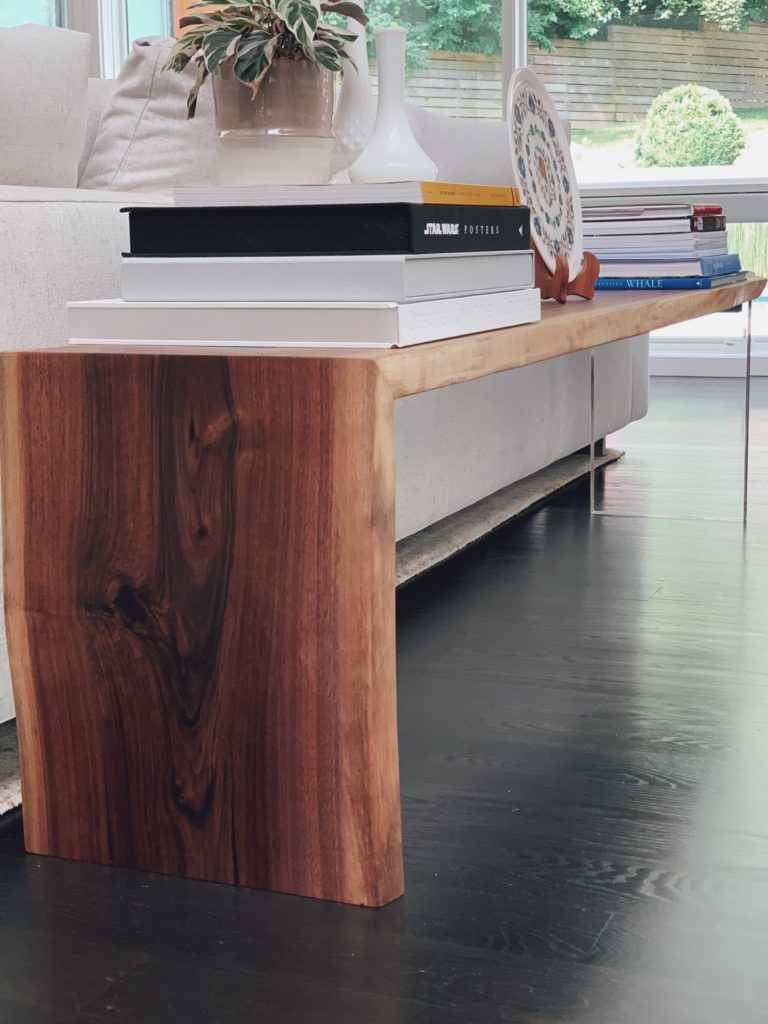 If you enjoyed this article, read the stories of other Love Local makers on our blog!