On a quiet, residential street along Shelby Bottoms Park sits an unassuming structure anyone would mistake for a garage. The 594 sq. ft. structure is the home of Lillian St. Bakery. Launched in 2016 by Owner & Baker Tara Tidwell, Lillian St. Bakery is a micro bakery producing everything from traditional sourdough to creative conceptions like a turmeric loaf, cherry chocolate chip brioche and sweet potato, walnut, gouda focaccia.
Baking was Tara's destiny. Her interest in cooking was sparked while learning to cook for herself as an undergrad. Fortunately for bread lovers, instead of putting her Sociology degree to use, she enrolled in culinary school at the Art Institute of Nashville. During an artisan bread baking class, Tara discovered her love of bread and her intrigue for all the possibilities it held. After school, she relocated to Milwaukee where she worked at a bakery, honing her baking skills and solidifying her love of baking bread. She soon moved home and started baking full-time at Dozen Bakery.
Tara spent evenings and weekends experimenting with new bread ideas at home, putting her kitchen aid to task. Her neighbors, willing taste testers, happily accepted new loaves to try. Word spread and it wasn't long before friends of neighbors were asking for Tara's bread.
Once Tara decided to start her own venture, wanting to remain small, the backyard presented itself as the perfect location. Fitting considering the bakery started on this street as a passion project. With the building complete and permits in place, she began planning what products to offer. Tara spent time getting to know and understand the nuances of her new commercial kitchen, honing recipes to get the perfect sized and shaped loaves and accommodate her baking equipment. After six months of trial and error, disappointments and doubts, small successes fueled her determination to carry on and Lillian St. Bakery opened it's doors.
Now, the alarm goes off at 2AM and with coffee in hand, she starts her commute to the backyard for the day's bake. High quality, carefully sourced, organic flours are used to feed the sourdough starter and and form loaves of dough to be baked. Tara supports local farmers by purchasing fresh ingredients from the markets that are incorporated into the loaves.
Tapping into the endless ideas on social media, Tara stretches her creative muscle on off days by testing new bread ideas and tweaking old recipes, giving them a refresh. When we met, she was developing a purple sweet potato sourdough recipe and working to perfect a pumpkin shaped sourdough boule.
Through the growth of Lillian St. Bakery, the neighborhood has remained a cornerstone of the choices Tara's made from the beginning. When this year's tornado hit her neighborhood, she put the business on hold and baked bread for sandwiches that fed volunteers during the cleanup. Tara's thoughtfulness shined as she considered "What else can we do to help our community?" To help people who didn't have a way to access fresh bread, she pivoted her business model to include a delivery service, which has remained popular ever since. In coordination with the St. George's farmer's market, Lillian St. Bakery donated a portion of their market sales to the Nashville Food Project. Tara sees the business as more than just an opportunity to make money, her's is a holistic view of how she can positively impact her community as a small business owner.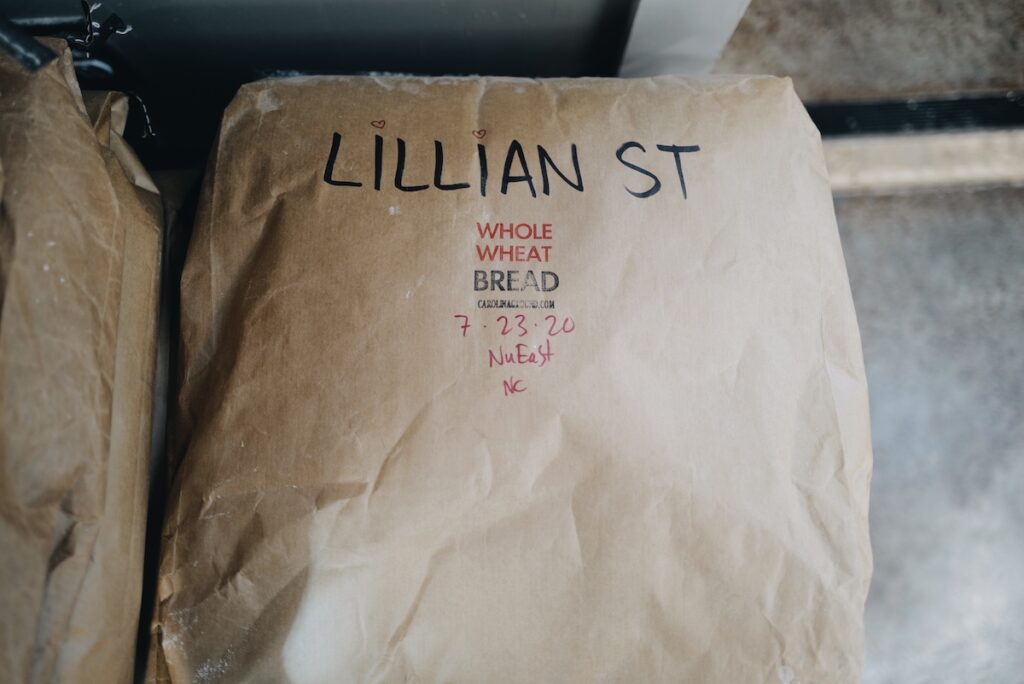 In just two years of operation, Lillian St. Bakery has had much success. Each week, neighbors are treated to lingering aromas of baking bread in the predawn hours as Tara bakes sourdough, brioche, tordu's (french for twisted baguette), rye, focaccia with fresh toppings purchased directly from the market, and more. Always ready to try something new, she continues to experiment with new ideas, some of which come from customers directly. Stopping by the Lillian St. Bread booth at the markets is like getting a present, you never know what interesting loaf will be there to surprise and delight you.
Follow Lillian St. Bread on Instagram to see what Tara's baking each week.
If you live in Nashville, visit the Lillian St. Bread booth at the E. Nashville, Richland Park and St. George's Farmers Markets. You can also order bread online for local delivery!