Microgreens. You probably know them as the tiny sprout-like garnish at high-end restaurants. They're packed with flavor and add extra color and texture to the plate. What you didn't know is that they're underutilized, insanely healthy baby superfoods. Microgreens are the second phase in a plant's life after sprouting. This is when the plant reaches peak nutrient-density. The plant continues to grow, but only gains more fiber and water, maintaining the same amount of vitamins and minerals as when it was a ten-day-old microgreen. Today we're unpacking the true value of microgreens and introducing you to microtea.
I met Stephen Cowan at the Slow Foods Festival in Denver. With a big smile he offered mea sample of his precious loose-leaf tea blend. It was delicious with a refreshing, delightfully complex flavor. A tray of microgreens sat next to him and as he explained what I had just tried, he snipped off a few greens and handed those over as well.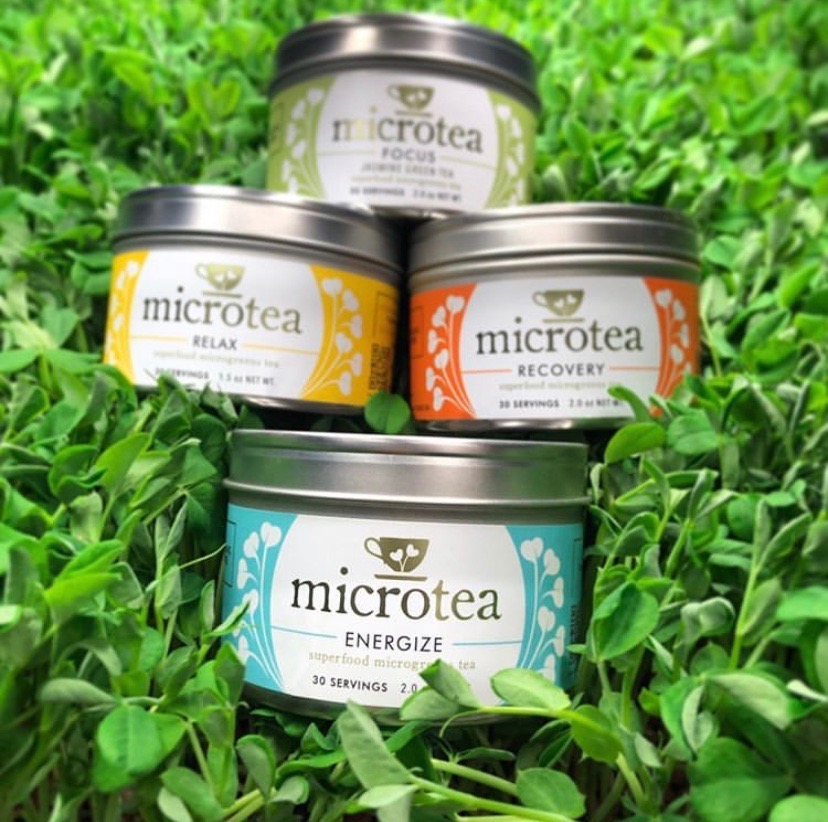 microtea is a blend of green or black tea mixed with organic, all-natural herbs and freeze-dried broccoli microgreens. Broccoli was Cowan's choice baby green because it tastes great and is the most nutritionally dense. It's packed with antioxidants and contains the highest amount of sulforaphane—a very powerful medicinal compound integral to our health. Stephen broke it down for me, "one of the reasons we age and fall apart is because our DNA unravels. Sulforaphane connects your telomeres [the ends of your DNA strands] and keeps them from unraveling. It's the glue that holds people together." He directed me to a John Hopkins research study in case I was still skeptical. All microtea broccoli is lab tested to ensure it's of the highest quality. It's also freeze dried instead of the traditional drying process, which allows it to retain 90% of its nutrients. "It's basically space food," Stephen laughed, "the goal is just to make this as potent as possible."
One of the newest developments at microtea is the addition of CBD. It's organic, locally sourced in Boulder and vapor-distilled under high pressure for 2-3 seconds; a process that, once again, retains all nutrient integrity and is free from chemicals. CBD has no psychoactive properties. Instead it relaxes the body, reduces inflammation, relieves pain, calms stress and anxiety, improves sleep and heart health…the list goes on. It was the natural next business step and just further improves the quality, flavor and impact of the tea.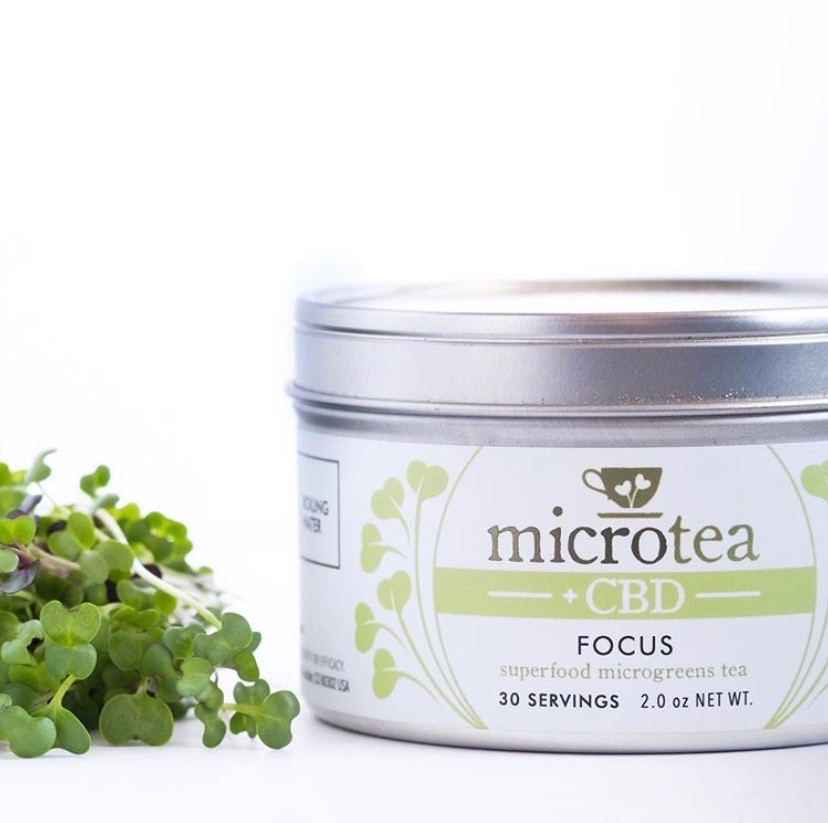 The business is completely sustainable as well. It's green by nature. The plants are grown hydroponically so the entire plant is utilized and there's no need for fertilizers, herbicides, or pesticides. Zero plastic is used in the process and everything is purchased in bulk to reduce excess packaging. Any waste is responsibly disposed of. All tea is sold in recyclable or reusable metal tins. As the business expands Stephen is committed to maintaining his rigid environmental ethos.
His passion for high quality ingredients isn't in vain. He hasn't cut any corners or left anything to the imagination. His transparency and knowledge about the process is pretty inspiring. Stephen wholeheartedly believes in what he's created and the importance of connecting people to plants.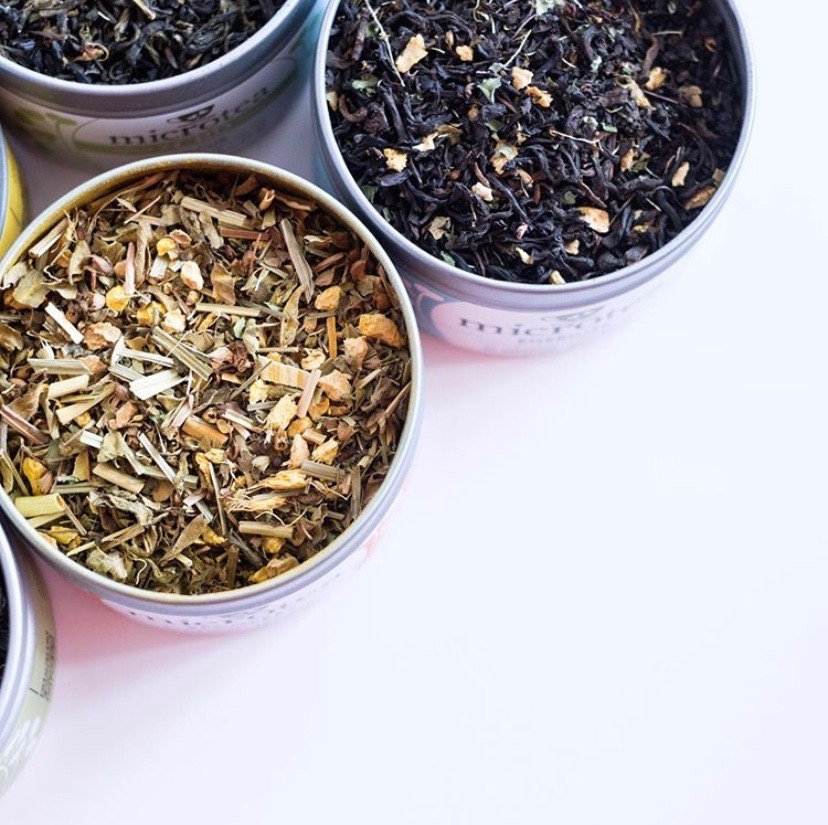 The journey began when Stephen grew restless at his software engineering job. He spent ten years working his way up, "it was a high flying job but full of anxiety and depression, like a pendulum that had swung too far in one direction. It had so many empty instant pleasures; fast food, technology, phones, etc. and it was hard to be in that world all day every day." He booked a one-way ticket to Peru and studied under a native indigenous tribe. He began to see the world through their eyes: "they look into the forest and see food, shelter, everything I couldn't see. I was illiterate to that. I needed to know more." Guided by the tribe, a spiritual journey and a newfound love for plants, Stephen returned to Colorado defiantly. Armed with new knowledge and fueled with purpose, he began microtea.
He noticed he's more patient now. The insatiable material lust has dissipated. His passions are quite simple: sustainability and this exciting, new fulfilling endeavor. He loves going to farmers markets to connect with people and connecting them with plants. He spends ample time outdoors and time with his plants. The tea he drinks most often—fittingly enough—is Relax, "it's super detoxing and calming." When asked if he's happy with how everything is going, he humbly responded, "it's an honor and a privilege to know your path."
If you enjoyed this article, check out our write up about Nashville based tea house and holistic living advocate, High Garden Tea.